Hey girl, your imaginary boyfriend from 2009 Ryan Gosling isn't quite sure how this whole meme situation got started because as per his recollection, those words have never tumbled out of his beautiful mouth.

Ana Gasteyer Satirizes the Girl Boss in 'American Auto'
The dank memes surrounding Gosling's person is vast and wide. But that silly Canadian just doesn't get it. When asked by Variety to comment on the phenomenon, he seemed confused about precisely how these things came to life in the first place – perhaps not fully understanding how his very specific combination of scruffy handsomeness, quiet sensitivity and presumed wokeness make him a kinder and less performative Matt McGorry.
He's not mad about it, just confused and not quite sure what the joke is.
Asked to elaborate on his feelings, Gosling muses, "Do you remember when Fabio got hit in the face with a pigeon on the roller coaster and it broke his nose. Sometimes I feel like I'm the pigeon and the internet is Fabio's face." Gosling pauses. "Actually, I don't know if I'm the pigeon or I'm Fabio's face. Depends on the day, I guess."
G/O Media may get a commission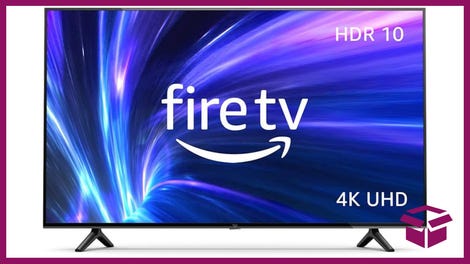 42% Off
Amazon Fire TV 50" 4K Smart TV
You're most likely the pigeon, bud. Just saying.
[Variety]
---
Oh great, Iggy Azalea got an award and is talking about her vagina.
In what Us Weekly is calling a "humorous" speech, ol' Igloo accepted the GQ Australia Woman of the Year Award and said in her speech, ""This is amazing to me; I've got the best vagina in the world." Sure.
I don't think she has the best vagina in the world; additionally, how does one measure the greatness of a vagina? Second followup — was Margot Robbie busy?

---
Speaking of Iggers, French Montana won't apologize for the elephant he had at his birthday party, so everyone wants her to do it instead. [Idolator]
Robert Wagner really, really loved Natalie Wood. [People]
How the fuck do you spend $2,000 on Uber in two weeks?? [Page Six]
Kendall Jenner just wanted a break from Instagram, like you probably do, too. [Buzzfeed
Oh god, what a mess. [TMZ]