It's a bittersweet day, friends, because last night was the finale of RPDR.
It's hard to believe that my girl Nina Flowers did not win. She did, however, get "Miss Congeniality." Still, Bebe Zahara Benet does carry herself like a Queen, and will be a fine ambassador to spread RuPaul's word. The drama continued in the Reunion Special, where Ongina cried, Shannel fought with Santino, RuPaul yelled at everybody and the amazing announcement was made: There will be a second season, thank Priscilla.

Yesterday, I received a statement from Bebe's publicist, sort of ruining the finale for me (thanks!) and I'll share some it with you guys:
My name is Nea Kudi Marshall A.K.A Bebe Zahara Benet and I am a native From West Africa specifically Cameroon. I moved to the United States of America about six years ago, to pursue my passion for high fashion modeling, which helped channeled me into the artistry of female impersonation, which has been my creative outlet for the past six years. I now reside in Minneapolis, Mn.

I created this character Bebe Zahara Benet who her purpose of existence is to celebrate all different kinds of women, their strengths, beauty, different cultures in an outlet where there are no boundaries and you can be whatever you want to be and also making it very commercial and mainstream for marketing purposes. Taking adversity and making it something beautiful.

Throughout my life , I have been blessed to be surrounded by positive people who believe in me and do whatever it takes to help me achieve my dreams and it is very important to me for these blessings to be extended out to others thus making it a chain reaction and that is why I am very humbled and honored to be able in my own little way extend a helping hand to One Heartland (www.campheartland.org ) a charity I am passionate about because of their mission and cause. I personally feel that allot of things be it good or bad happen to children , and they have no control over them, no control over decisions, or actions. In all of this touches my heart the most and gives me strength is their will to want to live and survive, to want to enjoy the beauty of life and being a part of their own generations. To be in this state of mind takes one with a strong will and lots of determination and that is why you and I have to look within ourselves appreciate our own blessings and then extend a helping hand to create a force to help save the lives of these children., to help give them the opportunity to live, to help give them the chance to be great people of their time.
G/O Media may get a commission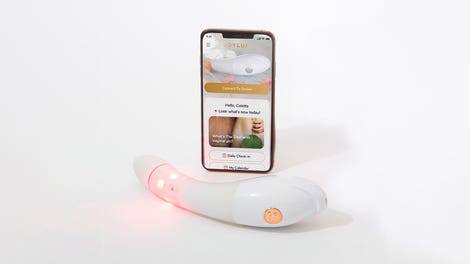 $50 Off
Joylux vFit Gold Device



RuPaul's Drag Race [LOGO]
Earlier: RuPaul's Drag Race: Nina Flowers Is Loca
¡Charo! Visits RuPaul's Drag Race
Gender Bender: Biological Women On RuPaul's Drag Race
A Very Special Episode Of RuPaul's Drag Race
RuPaul's Drag Race Makes Michelle Williams Cry
Fake Boobs Go Flying On RuPaul's Drag Race