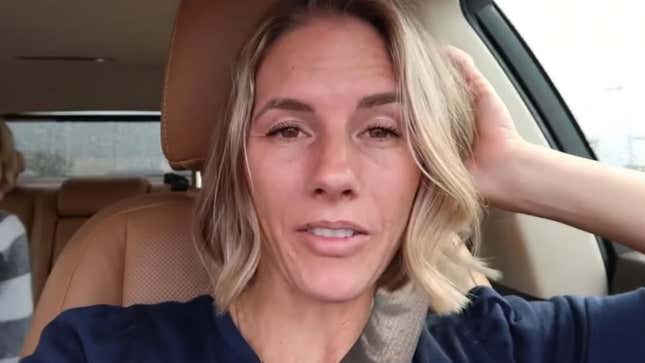 More horrifying details have emerged from the arrest of Ruby Franke, the popular family Youtuber and momfluencer, who was taken into the Washington County jail in Utah last Wednesday along with her business partner, Jodi Hildebrandt. Franke and Hildebrandt have each been formally charged with six felony counts of aggravated child abuse, four more than the original two counts that were initially reported.
On Thursday, two of Franke's children were discovered with duct tape around their ankles and wrists, after one of them snuck out a window and ran to a neighbor's home in search of food. When the neighbor called the police, Franke's 10-year-old daughter was found in a similar malnourished state at Hildebrandt's home. Both children were rushed to the hospital and the other two minor children (there are six children in total, but the two eldest are legally adults) were put into the care of Utah's Child and Family Services.
A court attorney detailed to NBC News the breakdown of the six counts in the following statement:

"There are two juvenile victims in these cases, and each defendant is accused of causing or permitting serious physical injury to the victims in three different ways: (1) a combination of multiple physical injuries or torture, (2) starvation or malnutrition that jeopardizes life, and (3) causing severe emotional harm."
Hildebrandt and Franke hosted a cult-like and authoritarian parenting advice group called "ConneXions" which they turned into a YouTube channel in June 2022. This was after Franke shut down her extremely popular YouTube channel, "8 passengers," which she ran with her (now ex) husband to document their large family—the content of which was often flagged as harmful and Franke received constant criticism for her "strict" parenting style, which typically involved withholding food from her kids or taking away their beds.
It's unclear where exactly Kevin Franke, Ruby's ex-husband and the kids' father is, but his attorney, Randy Kester, recently spoke with Chris Cuomo about his client's involvement. "Mom had the kids for the summer and went out of the county with the kids, and if he had known of or thought there was abuse going on, he would have been all over it," Kester said.

Since the two harmed children were found, Franke's three sisters released a joint statement on Instagram: "We've kept quiet on the subject of our sister Ruby Franke for the sake of her children."
Each count could put Franke and Hildebrandt in prison for up to 15 years and carry a fine of $10,000—meaning they could potentially face up to 90 years in prison. As of publishing, Franke and Hildebrandt remain in jail.