A freelance photog who's been tracking Prince George too closely for the royals' comfort just got his last warning from Prince William and his no-doubt terrifying army of lawyers.
"The Duke and Duchess have taken legal steps to ask that an individual ceases harassing and following both Prince George and his Nanny as they go about their ordinary daily lives," announced Kensington Palace, the Telegraph reports. (I like that your title is capitalized if you're tasked with royal childcare.) Officials added that, his someday public role notwithstanding, they'd like him to have the most normal childhood possible.
Apparently the warning came after this anonymous sleaze was spotted watching George in a London park, capping off worries that he'd "been placing Prince George under surveillance and monitoring his daily routines for a period of time," says the BBC. They've had dealings with the dude before:
Our correspondent said the man had been warned off by royal protection officers and that he had also been spoken to "over a number of years" in relation to the Royal Family.
"No parent would tolerate the suspicion of someone pursuing and harassing their child and carer whilst their child is playing in a public park or going about their daily activities," the statement added.
It sounds like this guy is an overeager isolated case. But it makes you wonder how the tabs' relationship with the royals is going to evolve in the next few years. It's been daisies and sunshine since Will and Kate got engaged, with the excitement over the wedding and the baby. But now it's time for a new storyline. Gossip items are getting juicier, spinning tales of feuds between various family members (which sound like bullshit, of course). Speculation about twins and baby names only goes so far. Can those carefully managed photo ops keep the paparazzi at bay? Maybe the royals should team up with Kristen Bell for a renewed push against the publication of celebrity baby photos.
G/O Media may get a commission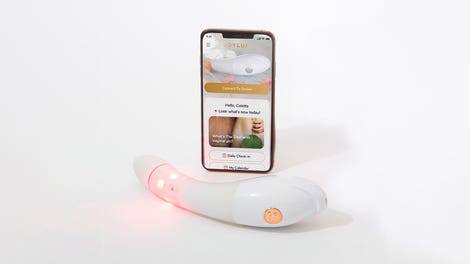 $50 Off
Joylux vFit Gold Device
Will seems like a pretty unflappable guy (I'd be pretty chill too if I stood to inherit all the privileges of a symbolic figurehead and none of the actual governance responsibilities!) but I'd wager good money this is one area where he doesn't fuck around, considering how miserable the media made the last months of his mother's life.
Photo via Getty.