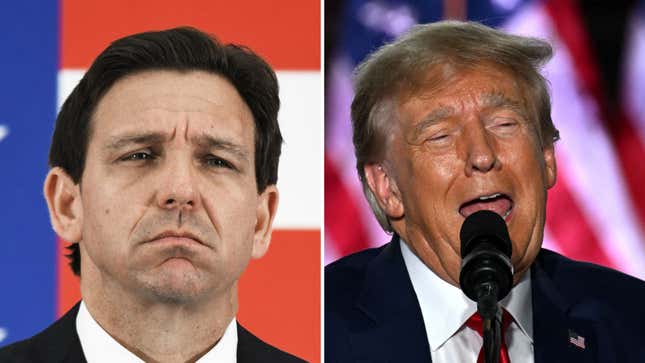 Donald Trump has, erm, come a long way since he literally defended the size of his penis against Marco Rubio comments during a 2016 primary presidential debate. "Look at those hands, are they small hands?" Trump said at the time, raising them for the audience to evaluate. "And, he referred to my hands – 'if they're small, something else must be small.' I guarantee you there's no problem. I guarantee."
Ted Cruz Won't Commit to Pleasuring a Man to End World Hunger
And by "come a long way," I mean that it's now 2023, and he has moved on from defending his own dick size to attacking the dick size of others—most notably Florida Gov. Ron DeSantis (R). Trump bestowed Ron the nickname "Tiny D," among others, before the latter even announced his candidacy for president. A naive, well-meaning person might assume this only has to do with the fact that DeSantis is relatively short; but anyone who knows Trump knows better. The Daily Beast then reported earlier this month that Trump's aides have specifically advised him to focus on the size of DeSantis' penis. "He's also short but … yes of course it's about his penis, that's why we're doing it," a source close to Trump told the outlet.
Cut to this week: DeSantis is heading to Reno to attend a thing called the "Basque Fry," wherein "stewed, fried lamb testicles," per The New Republic, are going to be served. And the opportunity was too perfect not to seize. "Not surprised Ron DeSantis is looking for a set of balls," said Trump campaign senior adviser Chris LaCivita.
Erin Perrine, spokesperson for the DeSantis-supporting Super PAC Never Back Down, responded: "The Trump team's obsession with men's genitalia is more perverted than a woke grooming book."
Now, see, this is funny. DeSantis' team is claiming Trump is obsessed with men's junk, and that is more than true. Trump's former aide Stephanie Grisham even wrote in her 2021 book that after Stormy Daniels said in an interview that Trump's penis looked like a "toadstool," the president called Grisham "to assure her that his penis was, in fact, not shaped like a toadstool or small." But DeSantis isn't as above all this as his allies would like to suggest. As governor of Florida, he's been myopically obsessed with the existence of LGBTQ people, whom he calls "groomers," to the point where he's banning books that even mention queer issues and "investigating" drag shows.
In short: All of these fascist Republican men running for president are, to some extent, obsessed with dick size. Some are overtly clownish and narcissistic about it, while others are channeling it into sick legislation. Which is better? Neither. Do not let any of these penis-obsessed cartoon villains into office again, period, ever—they are a cancer on society.