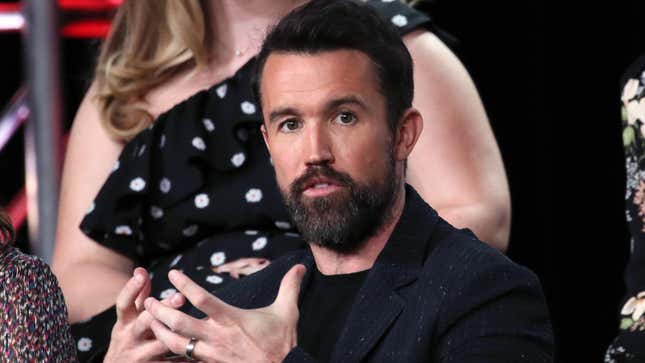 Some heartwarming pro-mom propaganda for your Mother's Day Eve!

Rob McElhenney, who you probably know as the guy from It's Always Sunny in Philadelphia who's not Danny DeVito or those other two guys, recently opened up about how much he loves his moms, Helena McElhenney and Mary Taylor, who are featured in a new video produced by pro-LGBTQ+ media advocacy group GLAAD.
"I get asked a lot about what it was like to have two moms. The truth is that it was a pretty great gift," said McElhenney in a statement to The Advocate when asked about the video. "By the standards of 1984 South Philadelphia, our upbringing was unconventional, but my brother, sister, and I were able to recognize early on that not every family looked exactly the same or like what we saw on television. Yet we had nothing but love and support and compassion and empathy. And I think that that allowed us to flourish."
Love that for him! Love this in general! Give it up for moms! (Tomorrow is Mother's Day. You are legally obligated to give it up for moms.) And watch Helena and Mary's video below.
---
Actress, model, and legendary Whitesnake video vixen Tawny Kitaen died on Friday. She was 59. [TMZ]
After a couple of non-apologies over the past few days, LaKeith Stanfield has properly apologized for not intervening when participants in a Clubhouse room he moderated last week started spouting violent, anti-Semitic rhetoric. [People]
Will Joseph Gordon-Levitt make another cameo in the upcoming Knives Out sequel? Yes, he will, says Joseph Gordon-Levitt. [Us Weekly]
Say Joseph Gordon-Levitt again.
Joseph Gordon-Levitt.
Lily James and Sebastian Stan make for incredible Pamela Anderson and Tommy Lee cosplayers in this first look at their upcoming Hulu series about the iconic '90s couple. [Us Weekly]
Following their Verzuz last year, Patti LaBelle and Gladys Knight are gonna reunite again! [Page Six]
Kelly Osbourne responded to rumors of an Osbournes reality show revival, saying there's nothing planned at the moment. [Hollywood Life]
Speaking of The Osbournes, I just did a google to check up on the gnostic Osbourne daughter, Aimee Osbourne, and apparently she and Kelly don't really have a relationship anymore? Also, she literally had to move out of her family's home at 16 to avoid being filmed for the show, which she never wanted to be a part of. (The series made no mention of a third Osbourne child, from what I remember, despite being a show ABOUT the Osbourne family. Aimee did make a handful of on-screen appearances, but only in the background and with her face blurred.) Sounds like she made the right decision for herself, but it seems kind of fucked up that the rest of her family would choose their reality show over her? [Page Six]
Gretchen Rossi says she'll return to Real Housewives of Orange County as long as "a specific cast member" (Tamra Judge?) isn't there. [Hollywood Life]
Much to think about: