On this week's episode of Keeping Up With the Kardashians we witnessed miracles, learned about interiors, and what it meant to be a friend. Our A-Plot was Rob's return; the B-Plot Kourtney's obsession with Interior Design; and our C-Plot was Khloe's strained relationship with Rob. Now let's get into it, Dolls. #LEGGO

At Kourtney's expertly decorated home, she prepares and sits for an Architectural Digest cover shoot. As the self proclaimed Interior Designer of the family, Kourtney is happily emotional that her dream of being the Architectural Digest cover star is coming true. Kourtney shoots in her unused office which is covered in loose, ornate art. What should be a happy moment soon turns sour as Kourtney laments the fact that her sister and fellow homeowner, Khloe Kardashian, will also be featured in the magazine and on the cover. Kourtney doesn't understand why anyone would want Khloe in the magazine because "Interiors" are her thing. Her. Thing. Kourtney's combination Dream and Nightmare was filmed on December 11, 2015.
G/O Media may get a commission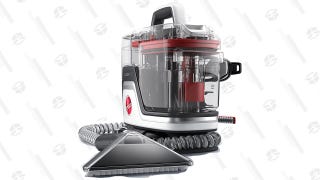 Save $10
Hoover CleanSlate Plus Carpet & Upholstery Cleaner
Scene 5: Filmed on December 11, 2015
After bottling her superior Interior thoughts, Kourtney grabs her kids and heads over to Khloe's house to finish her Architectural Digest photoshoot. Khloe, like Kourtney, is pumped for the magazine. What does impress Kourtney is the fact that she and Khloe are the first ever siblings to be featured in the magazine. Also joining the architecturally sound sisters are Kourtney's children, who most likely do not want to be there. Like the scene prior, this scene was filmed last year on December 11, 2015.
At Kris Jenner's house, Kris Jenner's youngest child, Kylie Jenner, nibbles on kumquats. Kylie forces her mom to eat the sweet skin off of the fruit. Kris does not enjoy the moment and the two are eventually interrupted by Kourtney, who has copies of her and Khloe's issue of Architectural Digest. While flipping through their homes, Kourtney can't help but criticize her and Khloe's design choices. Kris is shocked to hear Kourtney call some of her art and blinds "fucking awful." Kourtney's Interior remorse was filmed on February 1, 2016.
In yet another scene with Kourtney Kardashian, we see Kourtney catch up with her sister, Kimberly. The two grab "lunch" at a crêperie where they both dine on only tea. Kim admits that she doesn't enjoy crepes because it's like eating a dead person. Um. Okay. Instead of dwelling on her ideas about crepes, Kourtney tries to entertain Kim with stories about their children's interactions. Kim remains unbothered by her daughter and niece's actions, but she is concerned about Kourtney's interactions with Corey. Kim and Khloe seem to think that Kourtney and Corey spend an inappropriate amount of time together. Kourtney sees no issue and thinks Kim just doesn't understand their friendship because she's not making an effort to get to know Corey. Kourtney also advises Kim to connect with Corey in an organic fashion. The biggest revelation that comes from this conversation is that Kim doesn't know where Kanye went to high school because the two of them haven't gotten to "connect" in that way yet. This "lunch" was filmed on February 25, 2016.
At Rob Kardashian's new home, Kris Jenner and Interior Designer, Faye Resnick, frantically prepare Rob's new home for him. As the duo works, the living embodiment of answered prayers, Rob Kardashian, walks in for his first on-air KUWTK appearance since Season 9. He's joined by Kourtney and her organic friend, Corey. Kris is so hype to show Rob around his new home, but the excitement fades as soon as Kourtney critiques every design choice Kris and Faye have made. Once Kim arrives, things get even worse. Kim and Kourtney are in the kitchen when Kim compliments the homebuyer/their mother Kris Jenner on the oversized mugs in Rob's cabinets. Kourtney notices that those are the same exact cups she has in her home and tells her mom off for copying her design choices. According to Kourtney, Kourtney works so hard on having an exclusive Interior moment and is not here for Kris jacking her Interior swag. Kris is between a rock and an Architectural Design cover star because the mugs cannot be returned. Kourtney offers to buy the mugs off of Kris and gives her a final warning to not copy her ever again. Not to be outdone for throwing a personal brand fit, Kim tells her mom not to copy her either.
After mug-gate, Kourtney takes her rage to other parts of the house. Kourtney is concerned that the home looks too feminine and that Rob needs to listen to his "dope" sister who knows Interiors. So, she begins taking down almost every decoration Faye put up. Faye is unimpressed with Kourtney's redesigns and the two have a face off on the stairs. Wow! We never know what we truly want until we get it. In a #KUWTKE first, we know that this face off between Kourtney and the interiorly corrupt Faye Resnick was filmed on February 18, 2016 because of Rob Kardashian's glam!
In a very odd turn of events, Kris and Khloe stop by a studio to film a CollegeHumor short with Rita Wilson. Rita is a friend of Kris' and can hardly contain her excitement about having these two entertainers join her project. Though Kris and Khloe are graduates of the greatest Realistic Acting School on KUWTK, Kris can't seem to nail her one line. Thanks to Rita Wilson, we know that this scene was filmed on February 19, 2016.
Scene 17: Filmed on February 19, 2016
In the car ride home from their CollegeHumor debut, Kris and Khloe dine on salads before dishing on Rob and his new house. Khloe, who still hasn't spoken to her brother since she kicked him out of her house, is supremely uninterested in his new home. She is also sad and confused by the fact that Rob has yet to reach out to her. This is in part due to the fact that she basically took care of him for years and now he's all but vanished from her life. Kris understands Khloe's frustration, but she thinks she just needs to give it time. Like Scene 16 this scene was filmed on February 19, 2016.
At Kris Jenner's house, Kris Jenner sits with Kim and Kourtney in her backyard. Kris is still frustrated with how Kourtney behaved at Rob's new house, and advises her to respect other people's efforts and opinions more. Kourtney isn't having it and is still enjoying the view from her Superior Interiors high horse. Kim, who spends most of this conversation staring blankly at her kin, does chime in to say that Faye did a good enough job decorating the house in one day, but Kourtney's ideas are better in the long run. Kourtney also thinks that Kris should be grateful to her for helping Rob's house look more masculine. The moments at Rob's house must have been on Kris's mind for quite some time because this conversation was filmed on March 17, 2016, a month after Kourtney and Faye's Battle of Interiors
Well, Dolls, don't cry because it's over, smile because it happened. Join me next week for another #KUWTKE re-cap of KUWInteriors when we finally see former regular, Kendall Jenner. #KUMQUAT
---
Mariah Smith is writer and comedic performer who keeps up with the Kardashians. For more Keeping Up With The Kontinuity Errors click here. You can follow her on Twitter@mRiah.

Images via E!