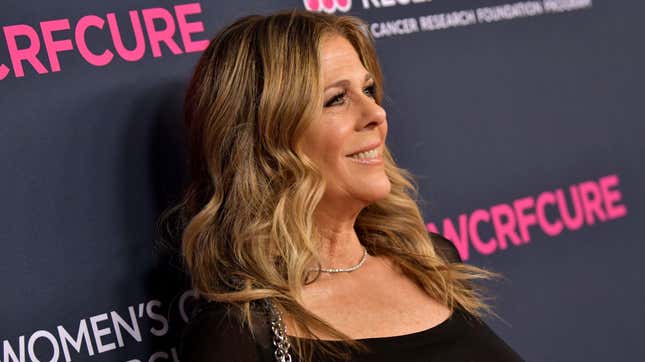 Rita Wilson has joined the chorus of those speaking out against the abusive workplace treatment they allege to have experienced at the hands of producer Scott Rudin.

World Warriors: Street Fighter 6's Female Creatives
Speaking to The New York Times on Saturday, Wilson says that Rudin, who has announced that he will step back from participating in "film and streaming" as well as "Broadway productions effective immediately," appeared to have been trying to find a way to legally fire her from a 2015 production of Larry David's Fish in the Dark after she told him she'd been diagnosed with breast cancer.
In 2015, Ms. Wilson learned she had breast cancer while starring in a Rudin production of Larry David's play "Fish in the Dark." When she told Mr. Rudin the news, she said, he complained that she would need time off during Tony voting season and asked to see her medical records, while Anna Shapiro, the director, grew upset about having to find a replacement.

A few days later, as she was about to go onstage, Ms. Wilson received a call from her agent, saying her surgeon needed to call the insurance adjuster immediately, per Mr. Rudin's demands. The memory still pains her.
"He is the kind of person who makes someone feel worthless, unvaluable, and replaceable," she added.
---
Alber Elbaz, the Moroccan-born Israeli fashion designer who "rejuvenated Lanvin" and was a favorite of stars like Meryl Streep and Natalie Portman, died of covid-19 on Saturday. He was 59. [The New York Times]
Everyone's talking about Zac Efron's aLlEgEd jaw and/or chin augmentation (implants? fillers?), but no one's talking about his aLlEgEd brow lift...except for me. :) [Page Six]
Gal Gadot lost a fingertip! [Page Six]
Whereas I lost all will to live after learning that actual irl evil billionaire Elon Musk is going to host an upcoming episode of Saturday Night Live. [NBC News]
"I was blacklisted—or, you could say, 'redlisted,'" says Sacheen Littlefeather about how Hollywood responded to her speaking out against Indigenous Americans' marginalization both within the industry and beyond at the 1973 Oscars. "I was ostracized everywhere I turned. No one would listen to my story or give me a chance to work." [Deadline]
The queens of RuPaul's Drag Race really don't live for Elliott With Two Ts...