On the penultimate day of New York Fashion Week, Robyn Rihanna Fenty dropped into Brooklyn Navy Yard and showed her peers how it's done. With an inclusive casting and a futuristic concept that celebrated womanhood and individuality, the show set a standard for future lingerie presentations (I'm looking at you, Victoria's Secret) yet lived in a class all its own.
For a moment, the space was converted into a lush alternate universe in which men existed, with a few even on display on the runaway, but women ruled.
But mostly, it was just Rihanna making us all dig deep into our wallets before payday to get highlighters we think will make us look like her, and lingerie we know will be flattering in all the right places—as made clear by the varying stretches, widths, and heights that she featured, including several plus-size models, and two pregnant ones. Slick Woods, with child, looks good in just about everything, and did not, despite the odds, water the plants.
G/O Media may get a commission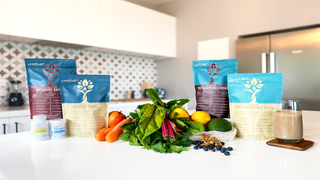 Other renowned models, including Paloma Elsesser and Gigi and Bella Hadid graced the runway. Elsesser, channeling a hot wife who just bit her husband's dick off after walking in on him cheating, was glowing. Gigi, looking like a sultry wonder-woman from the '70s, was elegant in a green ensemble that made her eyes pop. Bella, towering over the other models, looked straight out of a deleted scene from The Great Gatsby.
As the models walked out, the casting was indicative of the wide range of brown beauty. Leomie Anderson, Joan Smalls, and Duckie Thot—goddessses that make me feel like I need lace gloves and a silky, flowy durag.
Fluid, sensual choreography and performances made the night an experience for everyone involved, and likely a favorite for both guests and models who have had to endure a set of mostly traditional and mundane shows.

The makeup was not to be outshined or forgotten in all of this. Priscilla Ono, Rihanna's personal makeup artist and a visionary for the show, told Fashionista there were different themes and each had a look of their own, some inspired by "stained glass" and "a bloody nose," others "very happy, very glowy." Yusef, hairstylist and part of Rihanna's personal team, said "It's about freedom of expression, mixing whimsical with some sex appeal and just fun. Everybody is their own person."
Ecleen Caraballo, Jezebel. Back to you, Rihanna: