A week after molestation allegations against Josh Duggar came to light, Rick Santorum is speaking out on his feelings about the family that endorsed him for president in 2012 and about Josh Duggar's actions in particular. And unlike Mike Huckabee, who happily bought into the "repentance" narrative, Santorum's not so quick to forgive.

According to MSNBC, Santorum, who appeared on Good Morning America Thursday morning after announcing he'd be running for president, said he was sickened by the knowledge that Josh Duggar had molested his sisters and, unlike many supporters of the Duggars who stand behind the family's steadfast insistence that it's all about Josh and his repentance, Santorum stated this he "prays for these girls in particular."
While this is a much more reasonable response than Huckabee's "robust defense" of Duggar, it's still not an outright condemnation of the molestation, something that we might not actually see from a conservative candidate due to the fact that it goes against the promotion of Christianity that conservatives use as a platform.
From MSNBC:
"It's difficult for a Republican running for president because the narrative that [Duggar] did a terrible thing who has repented and changed his life is central to any sort of Christian faith, and particularly central to the evangelical view of the world," said Henry Olsen, senior fellow with the Ethics and Public Policy Center, a conservative think tank.
G/O Media may get a commission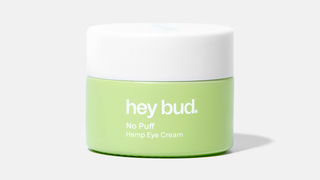 15% off
Hey Bud - No Puff Hemp Eye Cream
And, according to Olsen, any Republican hopeful who's not diplomatic may run into trouble with either the secular or Christian populations that they're trying to attract, making their bid for President less likely to be successful. Especially if there's no clearcut evidence present (uh, apart from a confession).
"In the absence of any evidence, it's very difficult for candidates to make a statement because they're either confirming or denying that basic narrative of sin and repentance," Olsen told msnbc. "If you're denying it without any evidence, you're clearly taking on the family and running into issues with Christian conservatives. If you're affirming the narrative, you're clearly going to have difficulties with voters more on the secular side. Given that most of these candidates have no personal ties [to the Duggars]… it's much better to just be radio silent."
Aside from Governor Sam Brownback and Senator Pat Roberts, whom the Duggars have supported in the past and who both released statements condemning Duggar's actions, only Huckabee and Santorum have spoken up about the accusations. And they're the only two that are running for president. Other conservatives may continue staying quiet, not only because speaking out may have a negative effect on their political careers, but because many conservative politicians have ties with the Duggars, who, until last week were seen as one of America's most wholesome families.
---
Contact the author at mark.shrayber@jezebel.com.
Image via Getty