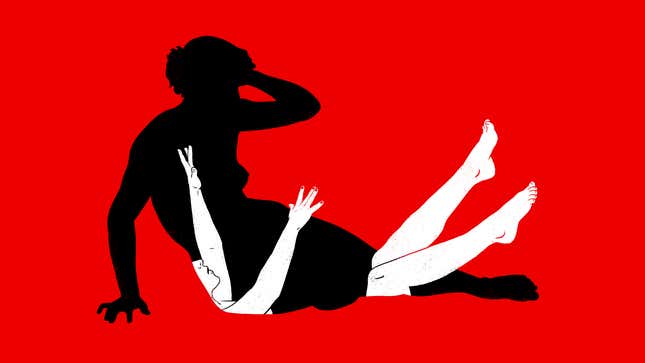 I didn't know the term "revenge porn" until 2014, the year my ex-boyfriend gave stolen photographs of me in my bedroom to both my boss and the New York Post. An explicit 10-year-old photograph was splashed across the tabloid, tearing my life apart and quickly ending my career as a New York City public school principal. 

Taylor Lautner Doesn't Even Remember Saying 'Bella! Where the Hell Have You Been Loca?'
Revenge porn, known by those of us fighting it as image-based sex abuse or nonconsensual pornography, is the distribution of sexually explicit images of a person without their consent. Victims endure deep and lasting damage to their psyches and futures. Approximately one in eight adults have been subjected to this form of abuse, and the vast majority of victims whose images go public are women. I am one of them.

In 2013, three years into my dream job as principal of Robert F. Wagner Jr. Secondary School for the Arts in Queens, I entered a relationship with a man who soon became abusive. When I finally left him, he uploaded the stolen intimate photographs onto a Department of Education laptop and delivered the laptop to my superintendent and city investigators. Within days, photographs of me in fishnet lingerie were available worldwide. He also made up preposterous lies that I had sex both on and off school grounds with parents, educators, and even a student.
As a result, city investigators escorted me out of my school pending an investigation. The subsequent investigation quickly showed that I was set up by my abuser. Still, Mayor Bill de Blasio's administration demoted me from principal to teacher, slashed my pay in half, and sent me to a rubber room, the DOE's notorious reassignment centers where hundreds of unwanted employees languish until they are fired or forgotten.
In 2016, I took a yearlong medical leave from the DOE to treat extreme post-traumatic stress and anxiety. Since the leave was almost entirely unpaid, I took loans against my pension to get by. I ran out of money in early 2017 and reported back to the department, where I was quickly sent to an administrative trial. There the city tried to terminate me. I was charged with eight counts of misconduct despite the conclusion by all parties that my ex-partner uploaded the photos to the computer and that there was no evidence to back up his salacious story. I was accused of bringing "widespread negative publicity, ridicule and notoriety" to the school system, as well as "failing to safeguard a Department of Education computer" from my abusive ex.
The city attorney prosecuting me entered the photographs into evidence one by one while the DOE's forensic investigator described them in vivid detail. Both the photographs and transcripts are now public record. In the end, I was suspended for one year without pay. I am expected to report back to the rubber room in December.
I was afforded virtually no protection under New York's laws. New York is one of 10 states that has failed to pass a law criminalizing nonconsensual pornography despite five years of trying. The most recent bill failed the state Senate in late June after Google and other powerful members of the tech lobby apparently squashed the legislation. The groups reportedly cited fears that judges would have too much authority to order the removal of non-consensual images online. Under the current laws, neither Google nor the New York Post has an obligation to remove my photographs, so they have stayed online despite clear evidence that they were stolen.
Even if the law had passed, it came nowhere close to providing meaningful protections or remedies for victims like me. It made nonconsensual pornography a low-level crime, meaning no jail-time and no sex offender status. It also required that prosecutors prove the offender acted with "intent to harm" the victim, a strict legal standard that is easy for perpetrators to evade. If perpetrators are not deterred by paltry consequences of weak laws, what remedies do women then have to protect themselves from the collateral damage, like gender-based discrimination in the workplace? In my experience, the answer is virtually none.
Women need strong protections to avoid a chilling effect on future leaders who may not put themselves forward because of sexual material they shared with partners. The fear of being a victim of nonconsensual pornography can be so pervasive that it has a negative impact on the number of women in leadership positions.
Victims may also face immense difficulty finding new jobs. If they are employed, they may quit because of the emotional stress of having to face co-workers after the incident or the risk of further harassment by colleagues who saw the photographs. Many women who are victims of nonconsensual pornography feel forced to change their name and to move to a different city or state in an attempt to restart their lives. I can hardly imagine a more extreme punishment than being forced to give up one's own name.
In order to change this, we need to look for real legal remedies. One place to begin is Title VII, the federal law that currently protects women from sexual harassment in the workplace. The recognition of sexual harassment has evolved over time and strong legislation has been put in place to help victims speak up. The same can happen with nonconsensual pornography. An Illinois state law, modeled after legislation written by Professor Mary Anne Franks and the Cyber Civil Rights Initiative, is perhaps the best in the country, but still lacks the type of employment protections women like me need.
It is clear there is an increased threat of non-consensual pornography for whole generations who find sharing intimate images perfectly normal and have the expectation that the images will remain private. Recent studies show that one in seven teenagers have sent—and one in four have received—texts with sexual content. In recent years, the rate has steadily increased. 
I am still fighting, but remedies have been extremely hard to find. My attorney, the women's rights advocate Carrie Goldberg, filed a gender discrimination lawsuit against the city in federal court. My case is pending, but the DOE is determined to fight it.
In 2015, when I realized that I would never be a principal again, I enrolled in the part-time evening program at City University of New York Law School, where I've focused on civil rights and government misconduct. I am set to take the bar in February.
Annie Seifullah is the former principal of Robert F. Wagner Jr. Institute for Arts & Technology in Queens, NY and a third-year law student at City University of New York.

Update: A previous version of this article stated the New York Post published photographs of the writer having sex. It has been amended.