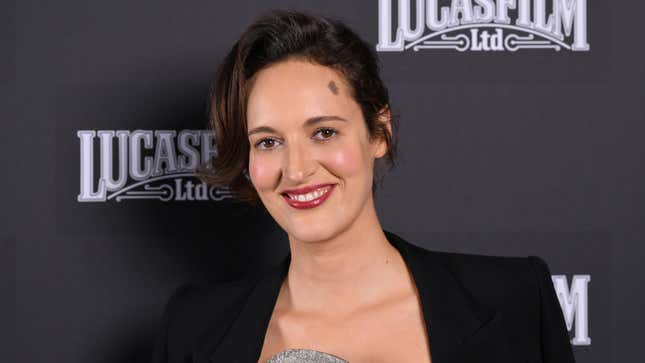 Kim Kardashian once said, "Get your fucking ass up and work." To that ethic, Phoebe Waller-Bridge responds: Sit your fucking ass down and let Amazon pay you for nothing.
Don't Feel Bad if You Can't Achieve the 'Clean Girl Aesthetic'
According to a report published by the Hollywood Reporter, the beloved Fleabag creator has been no work and all vibes as of late. In September 2019, just after the second season of Fleabag garnered six Emmy awards, Amazon Studios announced a massive deal with Waller-Bridge for new content. Almost four years later, the writer and director has not released any content for the company, despite reportedly earning nearly $60 million since she first inked the deal. And here I was idolizing Phoebe for the self-deprecating, neuroses-addled characters she writes. As an anti-work publication, we salute you, Phoebe. A real-life fleabag!

THR goes on to describe how Waller-Bridge was supposed to collaborate with Donald Glover on a Mr. and Mrs. Smith series, based on the 2005 film that ultimately united and then broke #Brangelina. Shortly thereafter, Waller-Bridge exited the series reportedly due to "clashing creative styles." After the initial three-year deal came to a close—with Phoebe earning a cool $20 million per year and not a lick of content to show for it—Amazon chose to renew the contract and attached Waller-Bridge's name to a rebooted Tomb Raider series.
She is said to be working on writing the show, not acting in it, but if the last three years have been any indication, I'd say Phoebe's gonna kick up her feet, force Amazon to cough up the coin, and wait until she can sign with another studio where she has more creative freedom than reboot hell.

(For reciprocity's sake, Amazon's head of television Vernon Sanders insists that "Phoebe has not only fully embraced Tomb Raider and I think is feeling very committed to it, but she's in a writers room right now working on it…She's a perfectionist, so she absolutely wants to make sure that what she does is great and right, but she's proven that when she does deliver, she delivers.")

Surely Phoebe has generated better ideas than just Tomb Raider Take Two, and Amazon is too stupid to actually produce them, but for now, I'm going to thoughtlessly regurgitate the narrative that our lord and savior is too preoccupied to work…probably somewhere fucking a hot priest!