According to senior immigration officials, ICE agents are targeting sanctuary cities during their deportation raids in an attempt to force those cities to cooperate with federal immigration agents, CNN reports.
The tactics have been discussed in private meetings with high ranking ICE officials who have discussed increasing the amount of raids conducted in those areas, according to CNN's source. US Magistrate Judge Andrew Austin confirmed that this is the case during an immigration hearing held on Monday, saying that a raid conducted in Austin, Texas was done in part to retaliate against Travis County Sheriff Sally Hernadez's refusal to comply, saying that her department would only hold immigrants if the "individual was arrested for murder, sexual assault or human trafficking, or a warrant had been issued."
From CNN:
"There's been questions about whether Austin is being targeted. We had a briefing.... that we could expect a big operation, agents coming in from out of town. There was going to be a specific operation, and it was at least related to us in that meeting that it was a result of the sheriff's new policy that this was going to happen," Austin says in audio of the proceedings provided by the court.
According to Austin, at a meeting in January, ICE officials told him and another judge that their increased enforcement operations were in "direct response" to Hernandez's declaration of Travis County adopting "sanctuary policy." Hernandez's refusal to comply was in direct response to a bill passed by the Texas Senate that withholds state money from sanctuary cities. Governor Greg Abbot also cut $1.5 million in funding to Travis County.
ICE has denied that any increase in raids in Travis County were in retaliation to Hernandez's decision.
"Rumors and reports that recent ICE operations are specifically targeting Travis County, Texas, apart from normal operations, are inaccurate," read a statement from ICE, although it did go on to say that "more ICE operational activity is required to conduct at-large arrests in any law enforcement jurisdiction that fails to honor ICE immigration detainers."
G/O Media may get a commission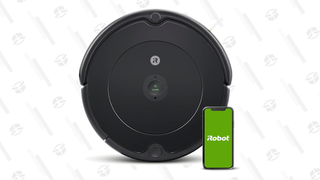 35% Off Black Friday Deal
iRobot Roomba 694 Robot Vacuum
Despite that statement from ICE, the immigration official pointed out to CNN that the raids "overwhelmingly" took place in sanctuary cities. A report from the Washington Post a few days after Hernandez's corroborates this. Rep. Joaquin Castro (D-Tex.) confirmed as much after speaking to ICE's San Antonio office, saying that ICE "has launched a targeted operation in South and Central Texas as part of Operation Cross Check."
In a meeting with ICE and various representatives from immigrant advocacy organizations after the sweeps took place, a pro-immigration was "told by a high-ranking ICE official that if their agents were not going to be granted access to local jails, they had no choice but to carry out large-scale apprehensions in other public places or homes."
Nothing about this news is particularly surprising; it only confirms the worst of what we've seen from an administration hellbent ruining the lives of individuals in a variety of creative and dangerous ways.