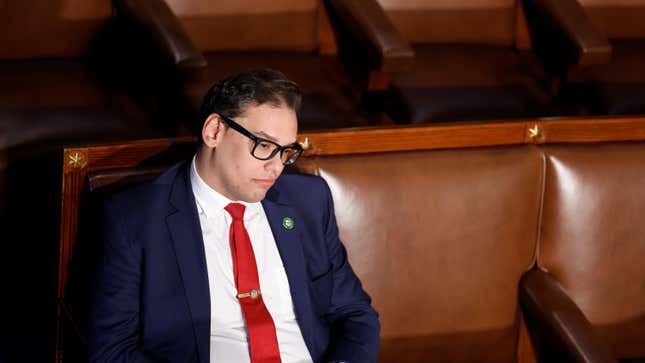 Last week, amid photos showing pathological liar George Santos (R-NY) sitting alone on the House Floor and an accidental (?) press release saying he'd be sworn in when it hadn't happened yet, many of us wondered who, exactly, would be willing to work for this man. Well: It turns out there are several ultra-right-wing shitheads who are more than happy to sacrifice any dignity they may have had by joining this man's congressional staff.

Taylor Lautner Doesn't Even Remember Saying 'Bella! Where the Hell Have You Been Loca?'
According to the Newsday, Santos hired "fixer" Viswanag Burra, a former aide to Steve Bannon and producer of Bannon's "War Room" podcast. Burra is also the executive secretary of the New York Young Republicans club, which drew headlines for its president saying at a recent gala that he wanted "total war" and pledged to "do battle...in the streets."
Santos has already said that he won't run for reelection in 2024, and Burra was reportedly brought in to assist with "[Santos'] ongoing effort to serve a full, two-year term," per the New York Post. The Post reported on Friday that Rep. and alleged sex trafficker Matt Gaetz (R-FL) recommended Burra for the job. Just sterling credentials.
Santos also hired New York businessman and failed Republican Congressional candidate Carl Paladino, who made news for praising Adolf Hitler and for suggesting that the mass shooting at a Buffalo, New York, grocery store was a false flag operation. Burra also served as a spokesman for Paladino's campaign.
But perhaps the worst job of all on Team Santos is communications director, the person responsible for fielding media requests for comment about his many lies. That person, according to a press release I received early on Saturday, is Naysa Woomer. Here is the statement about Santos being sworn in, for the morbidly curious:
"I am committed to serving the people of New York's 3rd Congressional District and finding solutions to solve tough problems. The work begins today, and I am determined to work with both Republicans and Democrats and support sound policy that will provide funding for local law enforcement, and reducing inflation," said Congressman Santos.

"Now is the time to put political differences aside, stop the finger pointing, and start delivering results. The work of Congress is not about my personal life, this is about delivering results for my constituents, finding bipartisan solutions, and reversing abysmal policies that have caused some of the worst inflation and crime in our nation's history."
So who wrote—or at least approved—the line "the work of Congress is not abut my personal life"?
According to her LinkedIn profile, Woomer worked as the comms director for the Massachusetts GOP and worked for the state's department of revenue under moderate Republican governor Charlie Baker. Woomer previously served as a scheduler for Rep. Tim Huelskamp (R-KS), and she also interned for Rick Santorum (R-PA) and worked for the political arm of the Heritage Foundation.
If there was a financial reason I needed to take that job, I would literally walk around in disguise and use a pen name for press releases so I could just collect that paycheck while looking for another gig. But I digress.
It sounds like things are already going great for Woomer! After Santos appeared to flash a white power symbol on the House floor, Newsday reporters tried to ask an unnamed female communications director for comment and said she shut the office door on them. Unless Santos hired two women with the same title, this was Woomer herself.
And now it appears that Woomer has another scandal to answer for: CNBC reports that a fundraiser for Santos' campaign impersonated now-House Speaker Kevin McCarthy's (R-CA) chief of staff to solicit donations.
Happy first day, Naysa, hope it was worth it!
Update 4:25 pm: Carl Paladino was listed as a Santos staffer on the Congressional database Legistorm, but Santos Communications Director Naysa Woomer said that's not accurate and he's not an employee.