Here's something engaged couples didn't have to deal with up until fairly recently: individualized wedding websites.
You used to had to go through The Knot or whatever, and they barfed up monstrous URLs like "lindsayandstevewedding.weddingwebsites.com/geocitiezweddings/creedsthoughts." I remember spending ten minutes on one of those nearly identical sites looking for a registry, only to give up and buy the bride and groom a book of inspirational poetry and a bottle of Andre (please note: I'm an excellent guest available for any and all events). As recently as 2012, my friend Adrienne said that I was the only person who chose to RSVP on her wedding website and that's because I choose to Live My Best Life online.
But here I am in 2015, and not having a wedding website is nearing mandatory status. All of our RSVPs are being handled online, as are our hotel blocks, registry, directions, available pet masseuses, and animal fun facts. I'm sure our eventual babysitters, divorce, and deaths will also be handled online. Talk about pressure! And even though I'm someone who has about 38 different tumblrs for a variety of websites that I intend to start and never do (please see: anthroirl.tumblr.com, which I created with the intention of asking friends to dress like women in the Anthropologie catalog so you can see how ridiculous that shit looks IRL, and mypiles.tumblr.com, where I intended to document the various piles of things I keep around the house), the thought of starting a wedding website is somewhat terrifying.
Maybe my fear stems from the stakes being so high: A good URL should somehow reflect who my fiancé and I are as people but also not be boring but also not be pretentious. I have definitely put more thought into this than most other aspects of my wedding. I need good friends, good food, good beer, good music, and a good wedding URL, with URL being most important of all.
So I hemmed and hawed (read: worked on this instead of important shit like booking a photographer) and came up with a list. These are the rejected ones; please enjoy while I attempt to book a last minute photographer who costs less than 10 million dollars. (Dare to dream.)
G/O Media may get a commission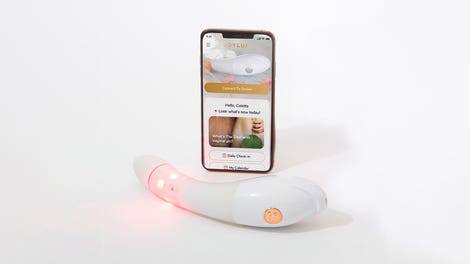 $50 Off
Joylux vFit Gold Device
LauraandJonas.com
Reason rejected: BO-RING. I'm a narcissist who needs something with some razzle dazzle.
FunWedding.com
Reason rejected: Taken! And they wanted like $10K for it. Sir, please.
Superfunwedding.com
Reason rejected: Also taken! Dream bigger, Laura!
TheWeddingOfYourDreams.com
Reason rejected: Even though this will be true, I don't think most people are ready to accept it into their hearts.
TheTimeOfYourLife.com
Reason rejected: Sets expectations too high. What if President Barack Obama actually comes and I have to show him the time of his life?! Getting stress hives just thinking about it.
DecentWedding.com
Reason rejected: Manages expectations, yes, but also kind of depressing?
YesYourExWhoYouHateButWhoImStillFriendsWithIsComing.net
Reason rejected: Too real.
TheClassiestAffair.com
Reason rejected: This is not the wedding of Mariah Carey and Nick Cannon and therefore inaccurate.
EvenThoughItSaysWeDontExpectGiftsWeVeryMuchDo.org
Reason rejected: Too transparent. Although it sends the correct message, I try to hide the greed monster who emerges whenever free things are nearby. I have bodychecked small children for 1/8th of a Super Pretzel at Costco before. I don't like this part of myself but when the water wars begin, you will want me on your side.
TheWorldsGreatest.com
Reason rejected: see above. Also, get over yourself, Laura. Jesus.
WouldYouBelieve.com
Reason rejected: I mean, it is pretty shocking that I tricked someone into marrying me but maybe it sends the wrong message? Plus, this wedding isn't just about me. (It's also about my URL!)
YouCantMakeThisShitUp.com
Reason rejected: You kind of can make this shit up? But I have proof because Jonas exists and he's not even Canadian! Sure, you can see his passport, no problem, just one sec! *scurries into the darkness, never to return*
NakedCelebrityBoobsandButts.porn
Reason rejected: I thought this was great. Just think, how many people who would come to it then see our smiling faces, but still get off to them, and then buy everything on our registry for us! Probably none, but imagine if it happened. Nevertheless, rejected by everyone on Earth who is not me.
imightactlikeimcoolwithyounotcomingtomyweddingbutmakenomistakeiampretendingifyoudontcometoillkillyouandimeanitdonottestmeillcomeafteryoufirstandthenyourfamily.porn
Reason rejected: Too long :(
---
Laura Beck is a writer and she is getting married plz help. Follow her on Twitter.
Image via WeddingWire.