Only a few days after a band of angry redditors demanded her resignation, Reddit CEO Ellen Pao is inadvertently giving them exactly what they wanted.
NPR reports that the company's first CEO, Steve Huffman, will replace Pao, who is resigning. (The news, classily enough, appears to have been embargoed.) In a post on, yes, Reddit, board member Sam Altman wrote:
Ellen Pao resigned from reddit today by mutual agreement. I'm delighted to announce that Steve Huffman, founder and the original reddit CEO, is returning as CEO.

We are thankful for Ellen's many contributions to reddit and the technology industry generally. She brought focus to chaos, recruited a world-class team of executives, and drove growth. She brought a face to reddit that changed perceptions, and is a pioneer for women in the tech industry. She will remain as an advisor to the board through the end of 2015. I look forward to seeing the great things she does beyond that.
He continued, remarking on the violently sexist comments Pao has weathered during her tenure:
As a closing note, it was sickening to see some of the things redditors wrote about Ellen. [1] The reduction in compassion that happens when we're all behind computer screens is not good for the world. People are still people even if there is Internet between you.

If the reddit community cannot learn to balance authenticity and compassion, it may be a great website but it will never be a truly great community. Steve's great challenge as CEO [2] will be continuing the work Ellen started to drive this forward.
G/O Media may get a commission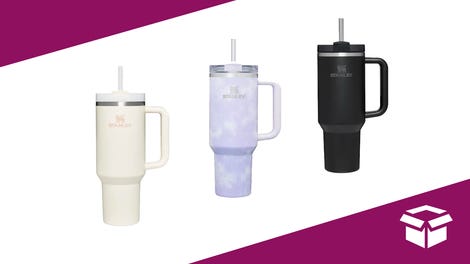 Up to 45% off
Stanley Cup Sale
Altman then set up an AMA, presumably to discuss Pao leaving.
"It became clear that the board and I had a different view on the ability of Reddit to grow this year," Pao told the New York Times. "Because of that, it made sense to bring someone in that shared the same view." On Monday, she'd apologized for the company's failures concerning the firing of AMA coordinator Victoria Taylor, writing:
We screwed up. Not just on July 2, but also over the past several years. We haven't communicated well, and we have surprised moderators and the community with big changes. We have apologized and made promises to you, the moderators and the community, over many years, but time and again, we haven't delivered on them. When you've had feedback or requests, we haven't always been responsive. The mods and the community have lost trust in me and in us, the administrators of reddit.
In June, Pao appealed the ruling of her highly-publicized lawsuit against the VC firm Kleiner Perkins over alleged gender discrimination during her time there.
---
Contact the author at dries@jezebel.com.

Image via Getty