I was very proud of myself for using very few products until I started accounting all of mine for this product diary. It turns out I am just as much of a slave to the Sephora industrial complex as everyone else, even though I am not very good at putting on makeup. That is one of my darkest secrets, one I have managed to keep under wraps by buying a lot of red lipstick and pretending that counts as dressing up.

Some people's mothers taught them how to paint their faces, but mine never really bothered. When I was a tween, my mother gave me Vaseline to use as mascara and told me never to put eyeliner along my waterline because "we don't have doe eyes like Audrey Hepburn." Thanks, Mom! In college, I rebelled by using so much eyeliner that the photo on my driver's license looks like I got punched in the face. I gradually used less and less as I got older and lazier, but when I lost my job in November, I tempered intermittent panic attacks by watching eye makeup tutorials, though I still can't figure out how to keep the goddamn top liner from imprinting on my eyelids.
I use face powder and blush once a year, to typically disastrous results. The last time I tried to put on a full "face," someone told me I looked like a "clown grandma." I do not know what a bronzer is. I do not own concealer. I do not own a blowdryer. I do not own a hairbrush. I am nearly 29. This is my story. Please help me.
Morning: Or something like it
I am a freelancer and an occasional night blogger, so for me, mornings are theoretical. Back when I had a real job, I'd get up around 6:30 and run in the park, but now I am best friends with my snooze button, which I hit every nine minutes between the hours of 9 a.m. and 11 a.m. I may or may not still go for a run, though in this sweltering summer it's more likely I'll make a pot of coffee and sit on my couch for six hours instead. I am a very healthy person.
G/O Media may get a commission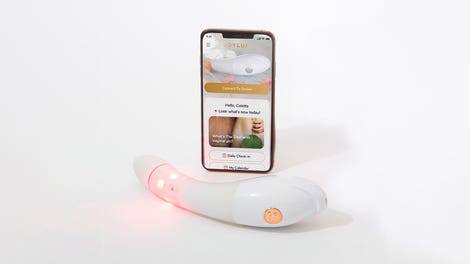 $50 Off
Joylux vFit Gold Device
If, for the sake of this post, I am not running, my morning routine is thus. I brush my coffee-and-booze battered teeth with Crest Baking Soda & Peroxide toothpaste using an Oral B toothbrush I get for free from my dentist.
If I have already had coffee, I will rinse my mouth out with Listerine Total Care Zero mouthwash, as recommended by my dentist. It contains fluoride, not that it's spared me from getting three cavities filled in the last year.
I wipe my face with a glycol/salicylic acid face pad I get from my dermatologist. I was on Accutane about five years ago after a rather unpleasant brush with adult-onset acne, and now the only skin care products I use are ones recommended by my dermatologist, who is currently angry with me because I no longer have health insurance she accepts. Not my fault this nation's healthcare system is a scam!
A fun thing about my hair is that it is very curly and resistant to any sort of modification. There's a process that goes into making it look even the least bit presentable, which I will detail in a bit, but for now, the big secret is that I only wash it once a week, and only at night. I sleep with it braided, so whether I've washed it recently or not, I'll undo the braid and either put it up in a bun or leave it down/half-down if it looks okay. That's it! No brushing or styling. I know you're all envious.

If I intend to go outside at any point, I will put on some eye makeup, even if "outside" just means the coffee shop down the block. I have blonde eyelashes and recently transitioned from looking too young without mascara to too old. The last time I threw caution to the wind and went to the laundromat with my alien baby Benjamin Button eyes, I ran into someone I used to date. I will never make that mistake again.
Now that I'm all into eye makeup, putting it on is a whole thing.
First, I use a NARS Larger Than Life Long-wear eyeliner in Rue Bonaparte because I read somewhere that using beige eyeliner along the waterline makes blue eyes look bigger.
I curl my eyelashes using a Revlon curler. (Both of these things do make a difference.) Next, I slather Urban Decay Eyeshadow Primer Potion and Clinique Touch Base for Eyes on my eyelids, in an attempt to keep my upper eyeliner from sliding all over the place. (This does not actually end up making a difference.)
I put a tiny smudge of eyeliner under my eyes, and a much bigger smudge on my upper lid. I like Stila Smudge Stick Waterproof Eye Liner in Spice or Marc Jacobs Highliner Matte Gel Eye Crayon in (Iron)y, depending on what color I'm feeling that day.
Finally, I'll swipe on a couple layers of Clinique High Impact Extreme Volume mascara in Black. All this makeup is the very expensive result of my post-layoff tutorial video deep dive, because a fun thing about getting fired is that you have a lot of time to spend money you are no longer busy earning.
I also put on some Neutrogena Ultra-Sheer Dry Touch sunscreen. It is sunscreen. It is fine. I am Created.
And now, time for couch.

Midday
It is possible I have left my couch. It is possible I have not. Either way, I have neither touched up my makeup nor reapplied my sunscreen. I have also probably done zero percent of the work I have due, but it is likely I did watch an entire season of Riverdale and eat an entire bag of Pop Chips. I am a very hard worker.
Evening
If I'm going out at night, my main hack is the aforementioned red lipstick. I have a lot of lipstick, some of which is probably very old and might give me meningitis. Here is my bounty, and also the end result:
My favorite lipstick is Artist Rouge Creme in C404, which was gifted to me on my 27th birthday (I know, I know, I need to toss it.) It's a very vibrant color, goes on real smooth, and stays on your mouth for like six years. I also like NARS Velvet Matte lip pencil in Cruella—I only have a little sample of it, but it's great—and BITE High Pigment Lip Pencil in Tannin, which I actually just threw out after three beautiful years together. I also like the little Clinique chubby sticks, which my mom gives me every time she gets one of those Clinique freebie bags. The colors are subtler than the bright reds and look good when I'm not wearing black, though that almost never happens, as my style icon is and forever will be Luke Skywalker at the end of Return of the Jedi.

On a regular "going out" night, the lipstick is the most work I'll do, though I might touch up my eyeliner if I notice it has melted halfway across my face. Might! Otherwise, I'm out the door as God made me. But if it's a special
occasion, like maybe my own wedding, I will do a Full Face. That consists of BareMinerals Foundation in "fair," the container of which I bought in 2015 and should definitely burn; Clinique Cheek Pop in berry pop, which I also bought in 2015 and should burn; this Too Faced eye concealer that a Sephora salesperson conned me into buying that I have used exactly once, and a Lancome eyebrow pencil that I think makes my eyebrows look too red. Whatever!!!!
If I'm feeling sassy, I might add a little Clinique eyeshadow. Please note that all of this Clinique stuff comes from my mother's Clinique freebie bags. She may not have taught me how to use eyeliner, but she is responsible for a large portion of my makeup collection, and is a very good mom.
Anyway, usually I start to sweat off this junk within an hour and I look worse than if I had skipped the face stuff altogether, so I rarely bother.
Night
HOO BOY, SHOWER TIME! First, I take my makeup off using Micellar water. If I'm not washing my hair, I typically just pop on a snazzy shower cap and wash my body using whatever body wash I happened to pick up at Duane Reade. But I was too lazy to walk 12 minutes to Duane Reade the last time I ran out of Dove wash, so I bought an overly expensive bottle of Dr. Bronner's at the grocery store across the street. I regret it.
If I'm washing my hair, though, there's a system. I got highlights put in over a year ago and am convinced they still exist, even though they've mostly faded by now. I am too poor to get new highlights, so I use a L'Oreal Ever Pure sulfate free shampoo for blondes and this John Frieda Sheer Blonde conditioner in hopes that I will still look nearly blonde instead of an ambiguous brownish-reddish-grayish (IT'S HAPPENING). Every few washes, I'll use a hair mask—I like the It's a 10 Miracle Hair Mask, but I switched it up with Redken Blonde Idol this time around. I don't like it as much, which sucks because it cost a lot.
I have very oily skin, and I don't bother moisturizing it basically ever. I've been told I will regret this in the future, but I'm banking on the rising sea levels killing us all by then. If I am feeling a little skin-parched, though, I'll use this Naturopathica Espresso Mud Body Scrub. One of my roommates works for Naturopathica, so I steal hers for free.

Post-shower, it's time for MORE HAIR FUN. I As a note, I spent most of my teen and young adult life putting so much gel in my hair that it looked and felt like someone came in it. Why did I make this life choice? Unclear, but now that I've given up on trying to tame the beast, I live a much happier and more productive life.
I comb out my hair with a wide-tooth comb. I use a tiny dollop of LA Looks Flex Hold Absolute Styling gel, which I can no longer find in drugstores and instead order in bulk online.
I mix that tiny dollop with a slightly bigger dollop of John Frieda Frizz Ease Curl Reviver mousse, which I find softens the gel a little.
Then, I braid my hair wet. That's it! I cede control! If humidity decides to wreak havoc with it the next day, I'll let it run wild. It is an adult and free to make its own decisions.
I floss, brush my teeth, and wash my face with Neutrogena Clear Pore Cleanser/Mask, as recommended by my dermatologist. Onto my one skin care indulgence: Tretinoin, which my dermatologist prescribes, and can cost me anywhere from $175 to $10, depending on how my insurance feels that day. It lasts for six months, and it is skin care gold.
I mix a tiny squirt of it with a tiny bit of Neutrogena Hydro Boost Water Gel, which is the shit. I use Olay Ultimate Eye Cream on my burgeoning eye lines. Then, off to bed/off to scroll through Twitter for three hours until I fall asleep with my computer in my lap. A beautiful day, indeed.