"I'm not a housewife, but I am real," is Bethenny Frankel's new tagline for her return to the Real Housewives of New York, the show she left when she got everything she wanted. Now she's lost some of it, and has come back to the brand that made her famous, bruised, and battered. But she's still determined to be on top again.
I will readily admit to not being a RHONY fan; the only two Housewives shows I watch with any regularity are Beverly Hills, because those women have real money, and New Jersey season one, because those women had real money for New Jersey. New York always seemed too fake to me; yes, these women are much wealthier than your average New Yorker, but they are not the real elite of this city. The return of Bethenny, however, whose highly successful spinoffs were endlessly entertaining, reeled me in. There's just something about her halfway decent sense of humor, quippy one-liners, and the drama that plagues her life that isn't just in-fighting with the other women. I admit to being biased, having only watched a few episodes of non-Bethenny RHONY for comparison, but in the new season, she sits above them all—a fallen queen, but a queen nonetheless.
Bethenny has spent the past three years fighting with her still-not-ex-husband Jason Hoppy. Their contentious divorce has been bandied about in the press, and as of filming a few months back (and as of now), it was still not close to settled. Episode one of this season of RHONY was devoted mostly to Bethenny's lack of stability: as you may know, she and Jason share their beautifully renovated monster apartment in TriBeCa with their daughter Bryn because he refuses to give it up to her.
Considering the warning shots Hoppy has thrown at Bethenny at the mere mention of issues in their relationship, I was unsure about how much she'd go into discussing their problems on the show, though at this point, perhaps she's used to legal threats of all kinds. But it looks as though this season, Bethenny won't shy away from the topic. "I feel like I'm in purgatory," she says of her attempts to find an apartment (she's bought a new one in SoHo, but it's being renovated, so she has to spend her life living and working out of her new house in the Hamptons and in hotels).
"That's the gist, that love isn't enough, which is a very sad thing to believe," she comments to LuAnn during a discussion about relationships had at some sort of SkinnyGirl cocktail party attended by only the two of them in the presidential suite of Essex House where Bethenny's staying. During much of the episode, it was difficult to feel much for her, even though she's so angry and hurt. Watching her stay in beautiful hotels while she discusses her life of wearing Oscar de la Renta gowns and dancing with Jamie Foxx tends to downplay that anger, something that at least she acknowledged after the fact.
G/O Media may get a commission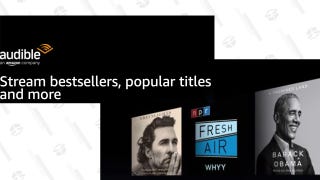 FREE
Audible Premium Plus 3-Month Free Trial
"I'm such a mess. I used to be so together," she laments, briefly touching on the failure of her talk show, which she says, as she has before, that she didn't really like doing.
But despite all her failures, Bethenny's brand is, as it's always been, about the little girl who has to get everything she's ever wanted. "In about six months I'll be on the other side," she says hopefully.
It's only at the end of the episode that you get a glimpse of her true pain and how much this divorce has plagued her, if only because before it, she thought she had everything she wanted. (Divorce is a theme this season—though maybe you could say that every season of every Real Housewives show—what with Ramona's contentious break-up from husband Mario going on as well.)

"I was broke six, seven years ago and I worked so hard and he lives in there," Bethenny says of her apartment through tears. "This is a stranger, a person that I wouldn't even talk to on the street now.
"I live in different hotels, corporate apartments, I am totally without a home for over two years, and he lives in the apartment that I worked my whole life to buy. It doesn't even make any sense."
No, it doesn't make a lot of sense, but Bethenny will use it to get back on track anyway.