Oh good, here's a ready-made plot line for Bethenny Frankel's return to the Real Housewives of New York: She's about to be deposed (again), as part of an ongoing lawsuit regarding her Skinnygirl Margaritas and the labeling thereof.
God, I hope Andy Cohen has to deliver an explainer on class-action lawsuits to the What What Happens Live! audience.
It's been more than three years since the lawsuit, which alleges that Frankel's signature cocktail contains preservatives and is therefore not so natural as billed, was originally filed. (Wow, I'm so shocked a "healthy" replacement for a traditionally caloric beverage might possibly contain something not entirely natural. Shocked!) But it looks like the case is finally inching forward, according to Radar Online (via the New York Post). Both sides are working their way through the discovery process. Frankel has already been deposed once, but apparently the plaintiffs' lawyers want another go and the judge says yup, go ahead.
So far, Frankel has resisted just settling the damn thing and is sticking to her guns:
"The parties are not engaged in any settlement discussions," court documents state. "Plaintiff believes that settlement discussions would be beneficial and productive. Defendants do not believe settlement discussions would be productive."
G/O Media may get a commission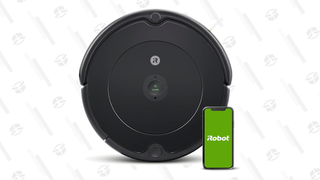 35% Off Black Friday Deal
iRobot Roomba 694 Robot Vacuum
Hey, she's already comfortable addressing her side of the story to the cameras. Deposition's gonna be a breeze.
Image via AP.