Between the series, their personal blogs, and the various tabloids they frequent, you'd think you already knew everything about these women. But the interviews—with cast members and producers—in The Real Housewives Get Personal contains behind-the-scenes satchels of gold.
While the size of the book is a little bit cumbersome to be the perfect "beach read," its content is exactly that. The text pages—like the forward by Andy Cohen, interviews with Housewives past and present, and back stories about how each incarnation of the show was developed and cast—are broken up with big colorful pages full of elaborate jokes and infographics, making it an easier read for the kind of people who prefer to watch television. Take this page, for example, which compares the breasts of each member of the Orange County cast to a kind of fruit.




Or this service-y breakdown of the ethnic makeup and financial standing of the town of Franklin Lakes, NJ (where most of the Housewives of New Jersey reside). The fact that it costs $42 for a mani/pedi at Chateau proves that cheap nail care is one of the only financial benefits of living in NYC.

G/O Media may get a commission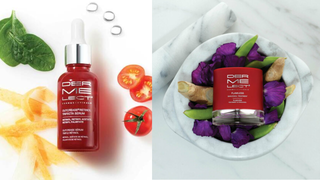 Save $19
Retinol Renewal Kit



While the book is a little outdated—it was obviously completed before Kelly's Caribbean freak out and Bethenny and Jill's falling out (although Kelly does talk about bullies and uses the lemons/lemonade analogy correctly)—it's still highly entertaining and packed with actual weirdo quotes from these women. There's so much to read and look at, that fans of the franchise could find themselves cracking up at just a little corner of the table of contents.




The behind-the-scenes tidbits are really interesting. For example, the show started—with Orange County—because Executive Producer Scott Dunlop was a "disenchanted" Coto de Caza resident. His neighbor was Jeana Keough. He decided to put together a "semi-improvised sitcom" called Behind the Gates with Jeana and a few other women. He pitched it to Bravo, which they retooled into The Real Housewives.
Slade and Jo were cast on the show because they were attending a fund raising party in the neighborhood and Dunlop offered anyone who would donate enough money a cameo on the show. Slade immediately cut a check for $2500.
Producers say that Ramona Singer's "shooting ratio" is very high because "as long as she's in front of the camera, there's almost a guarantee that the scene is going to make it on the air."
DeShawn Snow left after the first season of Atlanta to attend divinity school.
Producers put together the cast of New Jersey after finding Jacqueline Laurita at her salon—Chateau the Art of Beauty—and she recommended all the other cast members.
Teresa Giudice doesn't like Bruce Springsteen or Bon Jovi.
But the best part is definitely the exclusive interviews with the women, with some of them opening up even more about their personal lives, while others just talk shit on the other cast members. Here are some highlights:
Orange County
Tamra on Gretchen
She tattooed that guy Jay's name on her finger. There was a Band Aid over her finger at the reunion show which said Jay underneath it and her engagement ring was over that. I've seen the tattoo. Now it's a tattoo over a tattoo—she tattooed Jeff's name over Jay's name after everybody found out, and now it's one big blob of ink.
Tamra on Jeana
I think that she appeals to Middle America because she's not the skinniest girl on the show; she's not the most beautiful girl on the show…She's a bitch!
Jeana
I did five ZZ Top videos. I'm the lead female. I drive the red car. I'm the brunette and the rest of them are blondes. Every video the blondes were replaced but I was consistent.
Alexis
I'm edgy. I love staying with the latest trends. My husband would rather I just dressed a little more traditionally. The worst part is when I bring something home—like leggings—and I'm excited about them and he says, 'I hate those. Don't wear those around me.'
New York
Bethenny on Kelly
She is caught up in her own myth. She's trying to portray this really cool, bouncing, cartwheel-doing, Birkenstock-wearing, pickup truck-driving person, yet living in a $13 million house. She uses words like 'foil' and 'inappropriate' to act like she's intelligent…I think that she is so caught up in trying to portray something that she doesn't even know who she really is.
Kelly
I have psoriasis so I have to keep my skin tanned because that's the only thing that really helps it…My dad always said that I have amazing legs. I think my best features are my legs, my hair, my smile—a very genuine smile."

If you could describe me in one word it would be 'synthesizer.' I'm a synthesizer of information. I think that's why I was a good editor for Elle Accessories because I'm really good at synthesizing information, categorizing and making lemons into lemonade.
LuAnn
I'm an old indian spirit living vicariously through all the Indians that once roamed the planet.
I just think it's awful when people use their phones in elevators.
Atlanta
NeNe on Dwight
There's nothing I wouldn't do with him. Except have sex.
Kim
I play hundred-dollar slot machines [to unwind].
I got kicked out of Catholic school for smoking. Then my parents put me in another school and I got kicked out for smoking again.
New Jersey
Teresa on Danielle
She came to my shore house and acted inappropriately. Her boyfriend Steve's lying on the recliner…she goes and lies right on top of him and sticks her tongue in his mouth. My older daughter and Danielle's two daughters were sitting right there on the couch staring at her…And then she had sex with him that whole night and told me all about it the next day. She leaves my house and then doesn't even take the sheets off the bed. She's a pig.
Caroline on Danielle
What Danielle said about giving out a phone number on Andy's show was bullshit. She's a disgusting human being. She's full of shit. It's not that simple…For me to get to that point, it's more than a phone number. No comment.
Danielle on what she did to make Caroline cry
You can quote me. Dina used to work at Nisha Nails—where I get my nails done—for seventeen years. The owner of Nisha Nails is Angela. Angela's brother was Dina's first husband. Angela came to me after the finale, before the reunion, and asked me if my ex-husband had to sign for my children to do the show. And I said, 'Yes.' She said, 'Well, how come my brother's name got forged?'…So I have her a phone number to call the production company…He had to sign for his daughter to do the show, but he didn't get asked. And he didn't want her on the show. According to Angela.