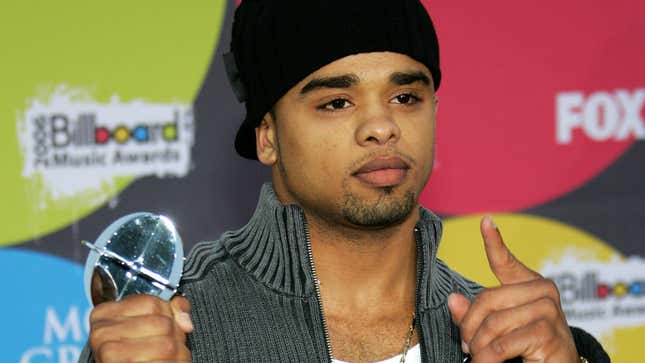 Over a decade after coming forward with allegations of sexual abuse, B2K member Raz-B is still seeking accountability from former manager-turned-director Chris Stokes.

"I'm here to vindicate myself because I'm not going to allow for my voice to be silent, nor am I going to allow for my light to be dimmed any longer," he told Central Ave in a recent interview. "You're not gonna bully me, homie."
Born De'Mario Monte Thornton, Raz first accused Stokes in 2007, claiming that Stokes had repeatedly touched him when he was as young as 11 years old. He also alleged that Stokes had forced him to shower with other members of the group. Stokes has always denied the allegations, but Raz is not discouraged.
"When you're old enough to really understand what you've been through, you look back at your life and think, 'How can I correct the wreckage of my past?" he said. "For me, it's about standing up for myself."
---
"I think it's very funny that Marilyn Manson's label decided to drop him right when the story went public, and people have just known about it for so long," Phoebe Bridgers told CNN. "I find that very annoying."
"I think it's a lot of performative activism, basically. I think people should take more responsibility internally," she continued. "It doesn't matter how many people know about it. You should look into people like you're the FBI. But when people make people money, it's really hard to walk away from that. But I think more people should."
---
Donald Glover and Phoebe Waller-Bridge are remaking Mr. & Mrs. Smith—the 2005 action-comedy that meetcuted (meetcyaught?) Brad Pitt and Angelina Jolie and launched the Brangelina x Jennifer Aniston tabloid narrative that outlived any of the actual couples involved—as a TV show, out next year. [Vulture]
Aw, Jay Baruchel. Remember him? So cute. Anyway, he said something. [Us Weekly]
James Marsters, who played Spike on Buffy the Vampire Slayer  and spin-off series Angel, said he's "heartbroken" to learn about Joss Whedon's alleged mistreatment of Ray Fisher and former co-stars Charisma Carpenter and Michelle Trachtenberg: "I send my love and support to all involved." [PinkNews]

"I kind of want to get out of the controversy, get out of the drama, and let people know that I am a singer," says Claudia Conway in a new (slash wildly edited) American Idol clip. [People]
Jessica Biel's standing by her man, Justin Timberlake, amidst his too little/too late apology to Janet Jackson and Britney Spears. [Page Six]
I don't fully understand the details other than "if you can squeeze tens of millions of dollars out of a soulless corporation you should," but Diddy is suing former apparel brand Sean John for a bunch of money. [Page Six]
:[