Rachel Bloom revealed that she recently had breast reduction surgery, Page Six reports.
In the caption of an Instagram post published Friday, the Emmy-winning creator and star of Crazy Ex-Girlfriend explains that after she got pregnant, her breasts "grew very quickly from a DD/DDD to a size G." Their texture and weight changed after breastfeeding, as well, which she says gave her rashes, neck issues, and other kinds of discomfort.
"At the end of it all, it felt like I had a pair of big soft balls weighing down my chest," Bloom writes. "Like post-shower balls. Really relaxed. You know?"
"I'm still healing [after the procedure] so we'll see what happens," she continues. "But I already feel more comfortable and relieved."
Perhaps my favorite part of this news item (besides Bloom making a decision about her body that would improve her quality of life, obviously) is how she concludes the post: "Lesson/conclusion/stunning revelation from this experience TBD?!" Sometimes you don't Realize Stuff and Realize Things no matter how hard the personal epiphany industrial complex wants you to, and I think that's beautiful!
G/O Media may get a commission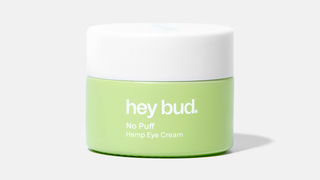 15% off
Hey Bud - No Puff Hemp Eye Cream
---
Joey Lawrence is threatening us with a Blossom reboot. [Us Weekly]
I feel bad about saying this since it looks like Don Cheadle is genuinely put off by Kevin Hart's reaction, but watching the latter scream-shout "DAMN!" after Cheadle quietly mentions that he's 56 years old while making a greater point... Unfortunately, comedy gold. [Page Six]
How do you celebrate a judge deciding that your soon-to-be ex-husband can't have any of the money you made while married? If you're Kelly Clarkson, you fly off to Las Vegas with some friends to catch a George Strait concert. [Page Six]
Lil Nas X was almost on Euphoria???? [Teen Vogue]
A source says that Meghan Markle and Kate Middleton might be collaborating on a Netflix doc together. If this was all promo, I swear to god... [Page Six]
Weeks after performing two sold-out nights in New York City with Lady Gaga, Tony Bennett, by way of his son, has announced that he will no longer perform live. "This was a hard decision for us to make, as he is a capable performer," Danny Bennett says of his father, who was diagnosed with Alzheimer's disease in 2016. "This is, however, doctors' orders." [TMZ]
Angelina Jolie recounts the time she was doing refugee aid work with the UN and terrified a little boy who thought she was actually Maleficent: