Nadezhda Tolokonnikova, one of the jailed members of feminist punk band Pussy Riot, has written a lengthy open letter about her experience within a Russian prison colony with appalling conditions that seem to echo the Soviet Gulag system.
According to Tolokonnikova's account, she and other prisoners are forced to work as slaves, 17 hours a day. Additionally, she said she's received death threats from the deputy head of the prison. Like her band member Maria Alekhina, Tolokonnikova is currently on a hunger strike in protest of her violated rights. She writes:
My brigade in the sewing shop works 16 to 17 hours a day. From 7.30am to 12.30am. At best, we get four hours of sleep a night. We have a day off once every month and a half. We work almost every Sunday. Prisoners submit petitions to work on weekends "out of [their] own desire". In actuality, there is, of course, no desire to speak of. These petitions are written on the orders of the administration and under pressure from the prisoners that help enforce it.
She says that there are regular beatings, but that she hasn't been touched, only because officials are afraid that her global fame would bring unwanted attention to the prison colony should she get injured.
"If you weren't Tolokonnikova, you would have had the shit kicked out of you a long time ago," say fellow prisoners with close ties to the administration. It's true: others are beaten up. For not being able to keep up. They hit them in the kidneys, in the face. Prisoners themselves deliver these beatings and not a single one of them is done without the approval and full knowledge of the administration. A year ago, before I came here, a gypsy woman in the third unit was beaten to death (the third is the pressure unit where they put prisoners that need to undergo daily beatings). She died in the medical unit of PC-14. The administration was able to cover it up: the official cause of death was a stroke. In another unit, new seamstresses who couldn't keep up were undressed and forced to sew naked. No one dares complain to the administration because all they will do is smile and send the prisoner back into the unit, where the "snitch" will be beaten on the orders of that same administration. For the colony administration, controlled hazing is a convenient method for forcing prisoners into total submission to their systemic abuse of human rights.
G/O Media may get a commission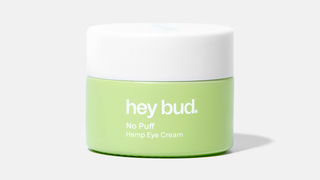 15% off
Hey Bud - No Puff Hemp Eye Cream
Tolokonnikova has been in the prison colony for one year and has one more left on her sentence after being convicted of hooliganism for performing an anti-Putin song in a church. She began her hunger strike on Monday.
Pussy Riot's Nadezhda Tolokonnikova: Why I have gone on hunger strike [The Guardian]