On March 20th, a female inmate was being transported from Brooklyn to Rikers Island when she claims she was brutally sexually assaulted by one of the correctional officers on the bus. The attack, which lasted more than 15 minutes, was witnessed by another guard who did nothing to protect the victim but stayed to watch.

The New York Post reports that according to a new federal lawsuit filed in Manhattan, the attack on the unidentified victim—known only as Jane Doe—occurred after she and a male inmate had had consensual sex on a bus during transport. The male inmate, the suit alleges, paid the guard to leave the two of them alone. When the guard returned, however, the victim says, he decided he wanted a turn, too, and the victim was too terrified to protest:
"Doe considered screaming out but chose not to scream because she realized that any officers who might respond from the [prison] were apt to be male and Doe was frightened that they might assault her as well," her suit states.

During the rape, another correction officer got on the bus. The rapist allegedly said he wanted to "give [him] a show."
According to The New York Daily News, Jane Doe says she begged the guard raping her to wear a condom. He ignored her.
The suit's aim isn't just to bring the guards' actions to light. It's also meant to call attention to the "culture of rape" that permeates the complex and allows for attacks like this to happen. As Broadly reported in September, sexual assault against female inmates by guards isn't uncommon. Unfortunately, however, it isn't taken seriously. Cecily McMillan, who was sent to Rikers after she tried to protect herself from sexual assault (perpetrated by a cop) during the Occupy Wall Street protests, reported that the abuse isn't limited to just guards and correctional officers.

"The doctors are far worse than the guards," she says. "Three women in the dorm had doctors stick their hands in their vaginas, claiming that their chromosomal charts were off and that he needed to perform a private examination of their vaginal areas to determine whether they were men or women." She says inmates even warned her off one particular doctor, whom one of the jailhouse nurses called "Handsy." McMillan says that some accused sex workers would trade sexual favors just to get their medication.
G/O Media may get a commission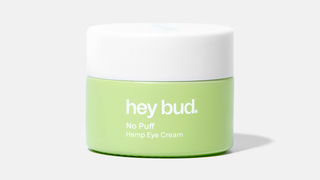 15% off
Hey Bud - No Puff Hemp Eye Cream
Officials haven't yet responded to the most current allegations but say they'll respond to the "specific claims" once the lawsuit is firmly in their hands.
---
Contact the author at mark.shrayber@jezebel.com.

Image via Getty