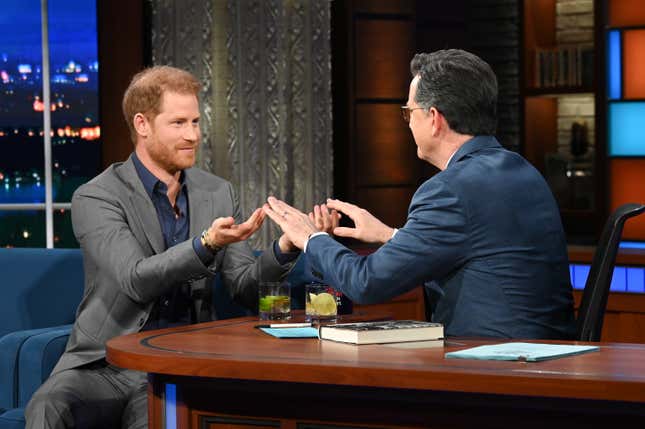 I think I finally understand why Prince Harry named his memoir Spare: Because now the entire world has an entire mind-garage full of spare facts provided by the talkative Prince.
On Tuesday, a surprise pre-taped segment with Harry ran on The Late Show with Stephen Colbert as a follow-up to a more serious and wide-ranging interview he'd filmed with Colbert last month. The recurring segment, the "Colbert Questionert," featured the host grilling Harry with the world's "burning questions." I personally was not burning to know the mundanities of Harry's life, given that fire was extinguished after the very first Oprah interview.
Regardless, we now know that Harry's favorite smell is *obligatory Borat Voice* "my wife." And the one time I would like more information from him, he does not provide any further details. Does she smell like cinnamon? Like a freshly brewed cup of tea? Does a unisex musky fragrance trail her through the house? Or does she smell like whatever the kids had for breakfast that day? At long last, there is far too much left to the imagination: Harry could be talking about the scent of Meghan Markle's hair when he hugs her, or the scent of her feet. Answer me that, Harry: DO YOU HAVE A FOOT FETISH? Blink twice if yes.

A few other newly gleaned, useless facts: The prince's favorite sandwich is a "cheese and ham toastie with dijon mustard on top" in a "toastie machine." He has a pair of old "ripped boxer shorts" he knows he should let go of. At the 2003 World Cup Rugby Final, he asked the English rugby team for their autographs. He is afraid of snakes, although sharks were a close second. And his most used app is BetterUp, which is shocking (and shameless) considering he is the Chief Impact Officer of the company.

Thanks! Now we know.
---
I don't want to end today's dispatch with such a quaint little tea party, so we'll quickly transition to another part of the entertainment world where The Last of Us star Pedro Pascal is busy creating endless tortured daddy content for gay Twitter. On Tuesday night, Pascal appeared on the red carpet in honor of the premiere of The Mandalorian's third season on Disney+. He looked like a spicy Easter Peep. He got mad at attendees for cussing, because "that's not very Disney." He took selfies. In general, he reigned supreme. Happy Pedro Day (which is every day) to all who celebrate.