If you stuffed yourself on Thanksgiving, nibbled treats through December and washed it all down with a boozy New Year's Eve while frigid temps kept you sun-deprived, know this: Victoria's Secret thinks you're ready to shimmy into a skimpy swimsuit.
Hey, Maybe you're in Australia. Or maybe you're on vacation in St. Bart's right now (if so, STFU about it). But some of us are in the grips of a cruel winter, and lithe 22-year-olds cavorting on the shore in shredded leotards doesn't make us feel any better.
For some reason I thought that old-school, retro, vintage-inspired swimsuits like the ones in Glamour last spring were here to stay. They're sexy without trying to hard, and so very Esther Williams. (I have one of her suits!)
G/O Media may get a commission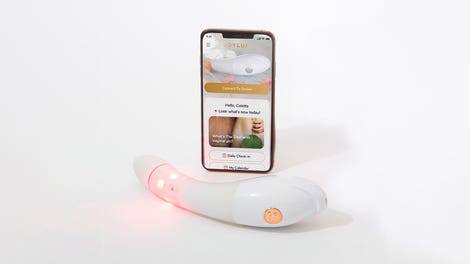 $50 Off
Joylux vFit Gold Device
Unfortunately, it seems that this spring break we're going to see swimwear go on a different direction. And that direction is leopard pretzel.
Fug. That is all.
That little black suit in the main image — emphasis on "little" — seems to have been inspired by a stuffed and trussed leg of lamb. The caption reads: "The fashion equivalent of dating a rock star." So basically, this swimsuit is going to get drunk and high, trash your hotel room, call you from rehab with an apology and write a power ballad about you. A bargain at 140 bucks.
Am I getting older, or are bikinis getting smaller? These whipper snappers had better get off my lawn.
Let's call this one "even cowgirls get the blues." Let's pretend the V-shape with fringe is an homage to the delta of Venus.
Bikini too revealing for you? Preserve your modesty by covering your navel.
Neon and polka dots? My 6th grade self would swoon.
Raise your hand if your underwear offers more coverage.
I am not embarrassed to say that my inner Homer Simpson murmured, "Mmm, candy," when I saw this.
"Cheeky bottom worn supermodel style." By this, do they mean: "Only supermodels should attempt'?
If you're interested in more coverage, fear not:
Vicky's got something skimpy for you, too.


Victoria's Secret [Official Site]
Earlier: Selling Women's Clothes To Women: Athleta Vs. Victoria's Secret
Urban Outfitters: A New Year's Eve Party Of One
Free People: Let's Pretend It's The Summer Of '69
Anthropologie's Hazy Shade Of Winter
Dear Santa: Have You Seen The December J. Crew?
Barneys: Wooing With Witticisms & Wallet-Emptying Wares
Ashro: Stop Being Such A Slob And Get Yourself A Suit, Hat & Wig
Silver Belles & Butt Floss: Christmas At Frederick's Of Hollywood