The May cover of Glamour teases "The Sexiest Swimsuit For Your Shape." And once you open the mag, you'll discover that — gasp — they actually shot women with a variety of bodies!
There's pear-shaped!
There's small-boobed!
G/O Media may get a commission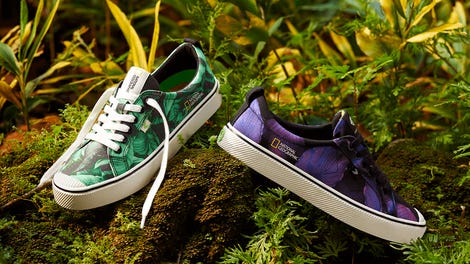 New New New
Cariuma + National Geographic
There's "has a belly"! (The copy reads: "But feel free to keep doing crunches!" Yukyuk! And I do mean yuck.)
There's giant rack!
And, what do you know? Big all over!


Of course, these are not models but "real women," so it's okay that their bodies are shaped kinda funny, right? That's why after this uplifting series of shapes and sizes, the VERY NEXT PAGE is:



Hey, lose weight! That is a command! Whether or not you need to lose weight, you should probably take off say, 8, 10 or 12 pounds. We'll show you how! Feel free to keep doing crunches, LOL.


But it's the main feature well where a plus-sized model is used. And this, friends, is a Big Deal. High-profile photographer Patrick Demarchelier. One model, getting all the attention. On a beach, which means plane tickets, which means $$$. And the results are pretty glorious. We're not saying this is a full-on trend, but the Australian edition of Harper's Bazaar just did a plus-size shoot as well. But back to Glamour: Is it odd that the magazine refrains from using the word "plus sized" and makes no note of the fact that its model is not the usual size four? Let's take a look at the language (and the pretty awesome pictures):
The hed and deck use great words like "sexy" and "goddess," but the caption? "Got curves? Ruched fabric (that's fashion for those pleats) cinges them while camouflaging lumps and bumps ." Emphasis ours, clearly.
I have no problem with this and may even frame it.
No language issues here, either, though she looks a wee bit uncomfortable.
This copy reads: "Love the retro red! We already know men are into it (duh!). But really, when you want to smolder, there's no better color." Yes, friends, we put on swimsuits not because we're going to SWIM but because we have to please THE MENS. Never forget.
Also, while there are no prices listed on these pages, so as not to distract you from the pretty, pretty pictures, in the back you'll find that the first suit is $325; the pastel bikini is $232; the black suit with the plunging neckline is $260 and this red one is $350. Happy recession!


'Harpers Bazaar' Showcases Plus-Size Model Love [BlackBook]