In the perfect coda to the rabid clusterfuck that was the 2016 Republican National Convention, armchair political correspondent and actress Kirstie Alley had very important things to say about Ivanka Trump: namely, that the daughter of GOP presidential nominee Donald Trump is a champion of Generation Y. In short, it inherently feels like a reboot of It Takes Two—one where the Olsen twins would probably be really into Ayn Rand, I'm guessing.
Ivanka, the fourth and last of Trump's children to speak at the convention, addressed the crowd gathered at the Quickens Loan Arena on Thursday night with verbose—if vague—commendations for the right-wing's beloved, dust-matted can of expired Cheez Whiz.
Lauding Trump for purportedly championing equal pay for women, affordable childcare, and other stances the Republican presidential hopeful has never actually expressed, the former model and current businesswoman attempted to display her father's "softer side" in an effort to supposedly appeal to younger voters.
Apparently enamored by the proceedings, it was Ivanka, not Trump, whom Alley praised during the final night of the convention, further declaring that the Republican nominee's spawn did the youths—or rather, "the millenniums"—proud.
G/O Media may get a commission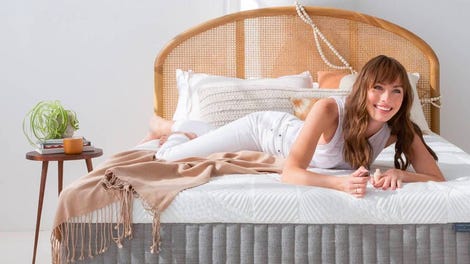 Sleep Sale
Sleep Sale - Brentwood Home
The actress' support of the GOP candidate—and by proxy his brood—isn't necessarily a surprise: Alley officially endorsed Trump this past April via social media. In turn, the former Cheers star's political backing was preceded by admiration she expressed for the candidate back in January.
"Donald Trump, whether you like him or you don't like him, is waking this country up," she said at the time.
Presumably reinvigorated by the GOP convention, Alley then delved into some light punditry and hard-hitting analysis. For instance: I'm not quite sure that the following things are mutually exclusive for some. (Please discuss.)
There were philosophical meanderings...
...and then it was time for Mad Libs.

This was followed by some grade A pathos from your Debate 101 seminar in college.
Taking a cue from myriad town halls the American public has been subjected to throughout the current election cycle, Alley then embarked on a Q&A with the wretched proletariat, accompanied by a valid query or two from the cheap seats.
An emotional roller coaster, really.
And then it came: the truth bomb that wasn't.
....considering a very loud and very, ahem, "bald" contingent of Trump's voting bloc, I'd think that a 50% hate rate would be the bare minimum criterion.
As the de facto online RNC after-party concluded, the Twitterverse was left with some parting words.
It was, indeed, the online equivalent of your right-leaning and patriotic aunt from the Midwest having some supper with your family, rigidly smiling at you from across the dinner table as you talk about volunteering for the Hillary campaign.
Wait, hmm—that's strange, I'm sensing some déjà vu.
...oh man, I just can't quite put my finger on it.
As of now, I am waiting with bated breath for Fox News to offer up Kirstie's contract for a co-anchor spot, which will be for a show with Stacey Dash as her fellow host, obviously.
Full disclosure: In college, I once worked in the gift shop of the Bull & Finch Pub, the watering hole which served as the exterior of the bar in Cheers—the show which made Kirstie Alley famous. During my shifts, we had to play four episodes of the sitcom on loop, and only those four episodes. I have not been able to watch it since.