Once upon a time, the name Fergie did not immediately conjure a member of the Black-Eyed Peas but rather, Sarah Ferguson, Duchess of York, one of the gloriously scandal-prone royals of the 1980s and 90s and later a media personality in her own right and fixture of women's media. Please enjoy her attempting to make scones with Oprah.
You wouldn't want to hire this woman as a caterer, let's put it that way.
This appearance was after Fergie's 1996 divorce from Prince Andrew. Afterward she went on an endorsement spree, including Ocean Spray, Olympus cameras, and most famously Weight Watchers. It was a controversial move, thanks to her tangles with the tabloids—especially an incident where she appeared to be caught in photographs getting her toes sucked by a man who was not her husband. "The PR is potentially devastating," a marketing consultant told the L.A. Times.
This appearance would have also been around the time Fergie released Dining with the Duchess: Making Everyday Meals a Special Occasion, a Weight Watchers cookbook. The Amazon description is a thing of true beauty, a reminder that we once had a passel of royals who might wild out to the point of endorsing a dieting brand. Imagine! Nowadays the closest we get is Pippa Middleton, who just can't quite get that TV career off the ground.
Straight from the kitchen of the world's most famous Weight Watchers member, Sarah, The Duchess of York, come over 125 easy-to-prepare, guilt-free, mouthwatering recipes.
Once harshly scrutinized by the unyielding glare of the media, The Duchess has come into her own as a chic, slimmed-down single mother with a new and exciting career. With her weight woes well behind her, she truly has become a role model for anyone who wishes to turn his or her life around. In fact, her triumph over adversity is just one reason why she is the perfect Weight Watchers member. Dining with The Duchess is a unique collaboration, combining the Duchess's taste and style with the culinary and dietary expertise of Weight Watchers.
G/O Media may get a commission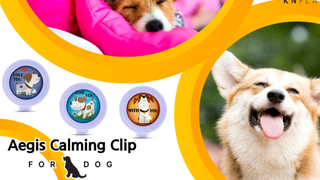 20% off
Aegis Calming Clip for Dogs
This woman was a member of the royal a mere three years before releasing this cookbook. So here's hoping Harry picks a wild card.
This has been your not-weekly-but-just-go-with-it moment of Oprah.
---