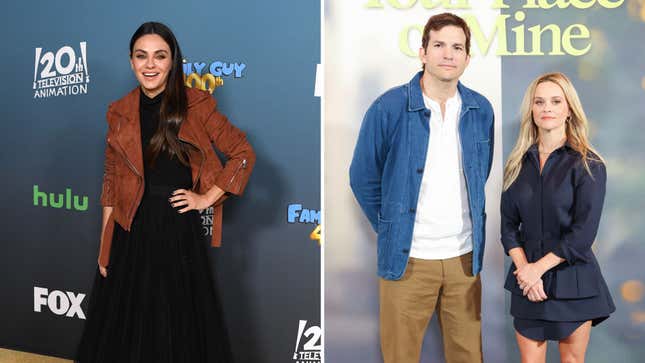 I regret to inform you that not only are Ashton Kutcher and Reese Witherspoon starring in an upcoming romantic comedy (on Netflix, titled Your Place or Mine, out Friday) but that the pair cannot seem to get it together in the slightest when appearing during publicity events, according to E! Online—and also every one who's looked at these photos. Please see Exhibit A above and Exhibits B and C below.

Their awkward body language has gotten so unbearable—and caught so much flack on social media—that Mila Kunis, Kutcher's wife, had to butt in. In an interview with Today on Monday, Witherspoon admitted that Kunis reached out in an attempt to save the duo from getting further skewered.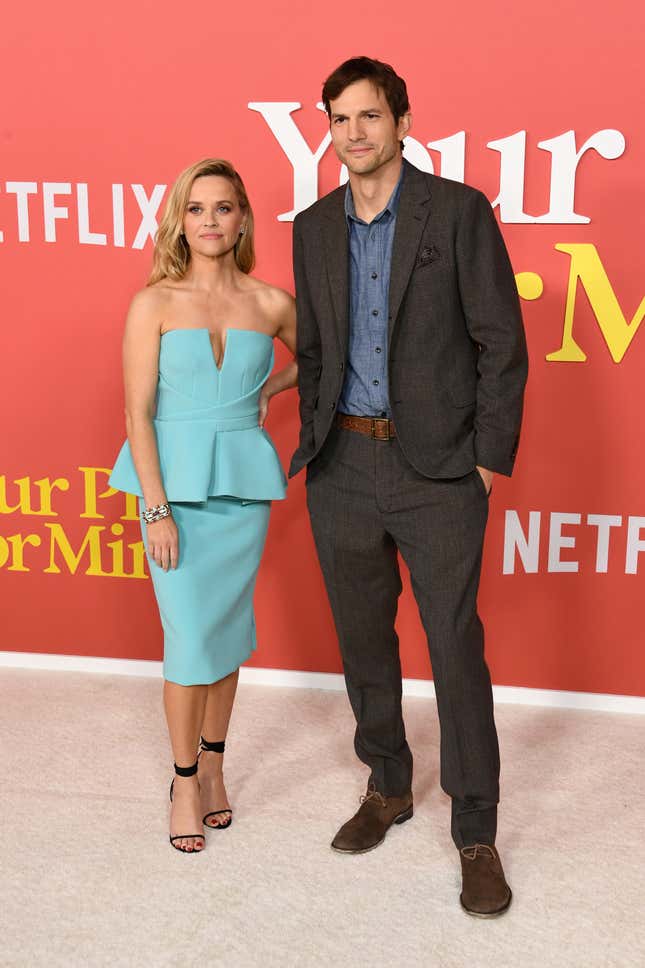 "She even emailed us last night," Witherspoon said of her close friend Kunis. "She goes, 'You guys look so awkward on the red carpet together.'"
G/O Media may get a commission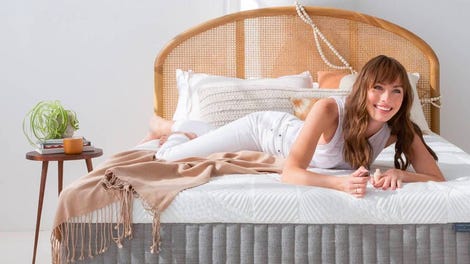 Sleep Sale
Sleep Sale - Brentwood Home
Presumably in an attempt to prove that this was a nice and fun missive from a fellow professional, she added: "It's just fun 'cause when you know a girlfriend so much, it was just fun to get to know her significant other 'cause I've loved her for so long."

But during an appearance on the Chicks in the Office podcast, Kutcher said he didn't want to touch Witherspoon for fear of...rumors of an affair?!
"Here's the thing, OK," he said. "If I put my arm around her, and was like all friendly with her, I'd be having an affair with her, like that would be the rumor...If I stand next to her and put my hands in my pockets, so there's no chance that could be the rumor—the rumor is that we don't like each other."
If you are selling a romcom...why is "we don't like each other" the better option here?? Just put your arm around her, you fucking nerd!

I have a few bones to pick with this whole situation. First, this casting choice, regardless of the bone-dry chemistry, feels off. Perhaps my brain is poisoned by the friends-with-benefits year in cinema that was 2011 (Friends with Benefits starring Kunis and Justin Timberlake came out the same year as No Strings Attached starring Kutcher and Natalie Portman), but at the very least, audiences need to be excited about the prospect of the two leads in a romantic film fucking onscreen, tastefully or otherwise. Oscar Isaac and Jessica Chastain. Adam Driver and Scarlett Johansson. Issa Rae and LaKeith Stanfield. George Clooney and Julia Roberts!!! Ashton Kutcher and Reese Witherspoon? Respectfully, I'm not buying it.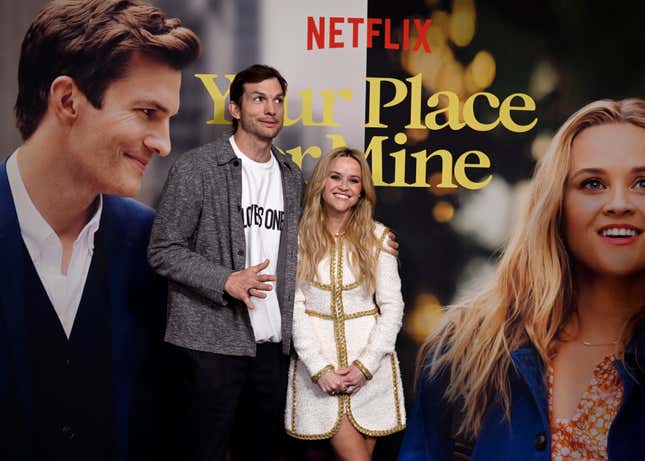 Second, I don't need rom-com stars to be friends, I need them to either secretly want to end their marriages to be together, to hate each other's guts, or to be good enough at acting that audiences believe the spark onscreen might be real. But Witherspoon talked in circles about how she and Kutcher "didn't really know each other" prior to filming and "had to learn to be friends." A month before filming, she said they started talking every day and sending videos back and forth in some strange form of method acting.

"I was like, 'These are my dogs. These are my kids.' My kids would tease him about his football team," she said. "He's so professional. He's the funniest guy. I mean, such a goofball. We had so much fun, and every time he'd wear a funny outfit, I'd text Mila. I'd be like, 'What is he wearing?'"

God, I feel like I'm watching paint dry!!! Anyway, I guess they're friends now, so congrats to them; having friends is nice. Good luck to everyone absent-mindedly tuning into their movie this weekend.
---