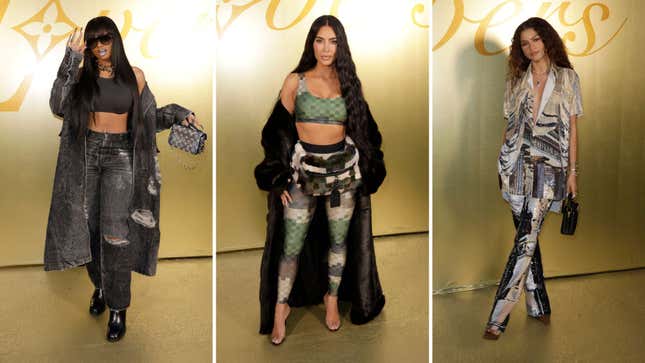 The sight of the Louis Vuitton logo makes me shudder. It brings me back to high school when everyone flashed card wallets with LV stamped all over them. To this day, seeing one out in the wild gives me the heebie-jeebies.
But Pharrell Williams, the multi-hyphenate producer and now, luxury menswear designer, may have a hand in ridding the brand of that ostentatious cringe factor. Following the tragic 2021 death of Virgil Abloh, the brand's infamous menswear creative director, Williams was appointed as Abloh's successor in February. And after much anticipation, the singer produced his first runway show on Tuesday, presenting the Louis Vuitton Menswear Spring-Summer 2024 collection as part of Paris Men's Fashion Week on the Pont Neuf bridge. Very fancy, indeed.
The collection, which featured a recurring pixelated checkerboard print and a boat bag that I'm mildly obsessed with, was designed with the ideas of "LoVe" [sic] and community in mind, Williams told Vogue. It was also intended to harken back to Virginia, where Williams grew up. The show itself, which was live-streamed, was set to songs Williams produced and were performed by Virginia-based gospel choir Voices of Fire and with piano played by Chinese musician Lang Lang.

"I make things for humans," he told Vogue. "It's immersive. And it's very inspired by the love and support of the people here that I've just been blessed to be able to experience over the past 30 years."

While the fashion seemed to be a resounding hit (Williams received a standing ovation that rivaled those given by Cannes audiences), the celebrity audience was a marvel in itself. Beyoncé, Rihanna, Zendaya—all the single-name ladies showed up! There were also rappers and athletes and reality stars (hi, Kim)! And lucky for you, we've gathered them all here so you may gaze upon their glam fits while lounging in the pajama pants you've yet to change out of. Have fun!