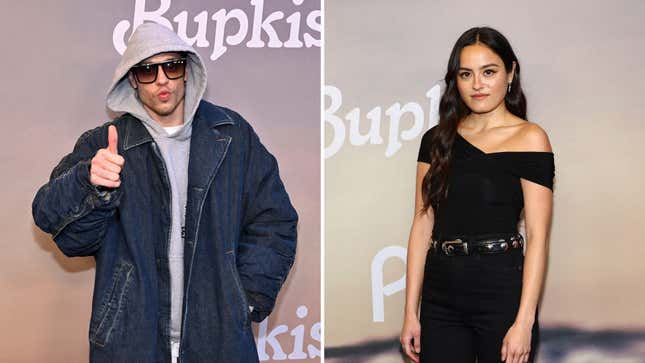 Love is patient, love is kind, and now love is…sort of avoidant?
If Pete Davidson and Chase Sui Wonders were to elope tomorrow, I imagine their vows might sound something like the above, given that they both attended the Bupkis premiere on Thursday night like completely separate entities. Ships passing in the night, if you will.

Jennifer Hudson Achieves EGOT Status, is True American Idol
Bupkis is a new Peacock comedy that Davidson said he co-wrote when he was "really bored" during the pandemic. The show centers on Davidson as he "attempts to work through unique family dynamics and the complexities of fame to form meaningful relationships," according to Entertainment Tonight (strangely, no, this is not a docuseries). Sui Wonders co-stars in the show, making this her second project acting alongside Davidson after Bodies Bodies Bodies.

The couple started dating in the winter of 2022, but Davidson is apparently getting fed-up with the headlines about his storied, prolific dating life—a topic that became a tabloid mainstay after he dated Kim Kardashian, Emily Ratajkowski, Ariana Grande, Kate Beckinsale, and a slew of other A-listers. It seems, then, that the SNL alum and Sui Wonders actively avoided taking photos together on the red carpet to keep the focus of the evening on the comedic project or on their individual accomplishments (although later that night, Davidson gushed to ET in an interview that his girlfriend is "the best. She's the best actress.")

It's possible the two are laying low in the wake of the car crash they were in together, for which he's facing possible criminal charges. It's also possible that Sui Wonders just didn't want to be photographed with Davidson when he chose to wear a DENIM DUSTER, a hoodie, and CHOCOLATE BROWN UGGS to his own premiere, which—I get it!
---