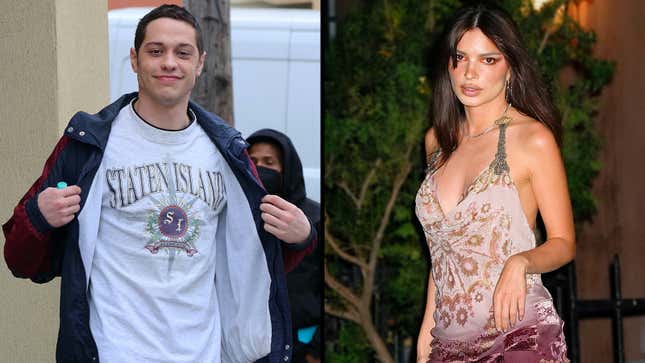 When the untimely dissolution of the Pete Davidson-Emily Ratajkowski six-week courtship was reported in late December, it was noted that Davidson had been "spotted several times with his Bodies Bodies Bodies co-star Chase Sui Wonders." Well, now there's photographic evidence. TMZ snapped the pair at Baba's Perogies in Brooklyn, and according to the piece, they "couldn't keep their hands off each other while they waited for their grub."
Pete Davidson Leaves Job at the Girlfriend Factory
"Folks who were there say Pete and Chase shared a kiss and did some serious cuddling," adds the report, though that was not photographed (and how serious could the cuddling really have been at a pierogi joint?). There is, though, a shot of Wonders with her arm around Davidson's shoulders. Scintillating!
Page Six says that this is the fourth time Davidson and Wonders have been spotted together in the past month. On Dec. 18, TMZ reported that Davidson's rep said: "Chase and Pete are great friends and they have been since they met filming Bodies, Bodies, Bodies." Additionally, TMZ said, "We're told they hang out all the time, and are most definitely not an item."
Meanwhile, Davidson's former...not flame, but more like a "photorealistic" representation of a flame perhaps in fragrance form, Ratajkowski, was photographed with comedian Eric Andre on Saturday, again by TMZ. Said the rag:
The model and comic appeared to be super into each other, walking with their arms around one another as they shuttled between a couple stops. We're told they hit up Japanese hot spot Sakagura in Midtown, dining there for 3 hours.
That's just great for them. New year, new people to appear with while the world watches, its collective mouth hanging open.
---