Paula Patton and Robin Thicke's divorce is getting pretty ugly: on Thursday, Patton and Thicke each asked for temporary sole custody of their son, Julian, but Thicke's request was denied. In lieu of custody for Thicke, the judge issued a temporary domestic violence restraining order against him , amidst allegations of physical abuse.

TMZ reports that Patton alleges that Thicke "hit her with a closed fist to her upper body and then pushed her onto the ground" in May 2013 while they were attending the Cannes Film Festival. In addition to this claim, papers filed by Patton's lawyers in court state that Thicke "threatened multiple times to 'bash my f***ing head in.'"
Patton claims their marriage was pushed to the breaking point in Feburary 2013, during the filming of Warcraft. From TMZ:
Robin and Julian came to stay with her and she says Robin was supposed to take care of the boy, but early in the morning, he began screaming in front of them that he wanted to "f***ing sleep ... Who do you f***ing think you are not letting me sleep!"
Patton also claims that Thicke has a "serious cocaine problem" and is also accusing him of cheating on her, saying that Thicke once called her while he was on tour in the same year and she somehow heard him having sex with another woman.
Then there's this, concernig their son, Julian.
Paula makes various allegations involving Julian, saying among other things she began noticing behavior changes last November. She describes an incident where Julian asked Robin for a hug before bed and instead she says Robin came back to his room and spanked him.
G/O Media may get a commission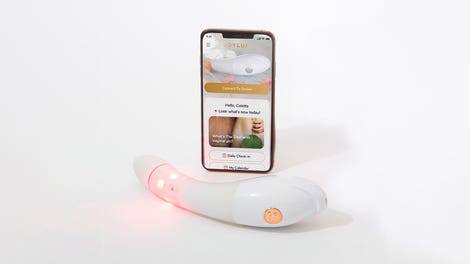 $50 Off
Joylux vFit Gold Device
Thicke's lawyers say that these claims are "unfounded" and that the L.A. County Dept. of Children and Family Services is in the process of closing the child abuse investigation against him for allegedly spanking his son, but note that the DCFS is looking into Patton for claims of emotional abuse.
For now, Patton's domestic violence restraining order stands. Thicke is prohibited from seeing both Patton and his son until further notice.
[TMZ]
---
A part of me wants very badly to forget that Blake Shelton and Gwen Stefani are desperately, passionately, possibly in love, but the gossip industrial complex reminds me of their ardor every so often and I heave a heavy sigh.
Gwen and Blake made an appearance at Luke Bryan's "Crash My Playa" festival. a four-day country music extravaganza in Riviera Maya, Mexico where stars partake in some "total vacationing and chilling out," and as per Bryan, Gwen fit in just fine.
"I think Gwen enjoys learning a little bit more about us country people!" he said to People, before slinging his guitar over his shoulders and loping off towards the stage, I'm guessing.
The love between Blake and Gwen is so very confusing to me. What do they talk about? What's a regular night in look like for them? Do you think Blake joins Gwen for an acoustic rendition of "Spiderwebs" around the fire pit in the backyard? I want more information and also no information at all, because even though I want to know, once I learn even a dribble of information, I won't want to hear anything else.
Anyway, I'm glad they had a nice time!
[People]
---