Once known as the queen of fatty foods and now known as the queen of saying racist things and getting in a lot of trouble for it, Paula Deen has "parted ways" with her longtime agent Barry Weiner, of Artists Agency, a literary and talent agency.
As Deen is no longer trusted to say anything to anyone ever again, The Associated Press has a statement from her spokeswoman Elana Weiss:
"Paula Deen has separated from her agent. She and her family thank him for the tireless effort and dedication over the many years. Paula wishes him well in all future endeavors."
During the good days of Barry and Paula, she reminisced about meeting him in her book, writing that he was the reason she'd gotten a deal with the Food Network. She wrote that her family referred to him "affectionately" as "Barry Cuda" because it's the "[p]erfect name for an agent." In 2011, USA Today said that Deen and Weiner appeared to be an unlikely team:
"At first glance, Paula Deen and Barry Weiner would seem to go together just about as well as a deep fryer and a steak. But like chicken-fried steak, they make an unexpectedly great combination."
G/O Media may get a commission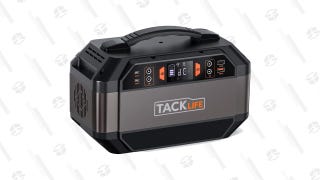 Tacklife Portable Solar Generator
After being dropped by tons of her sponsors, Deen's latest plan is to use the Supreme Court's gay marriage ruling to fight the lawsuit she's working against in court.