Want a baby to look exactly like Angelina Jolie? The star isn't going to be giving you any of hers anytime soon, but TMZ reports that desperate parents (desperate for their kids to look like Jolie, so rich desperate parents) are willing to pay thousands upon thousands per egg in order to get a little Lara Croft in their lives.
TMZ reports that The Daily Bruin ran an ad requesting any Jolie lookalikes to come forward and collect $30,000 for a good egg. The clients are looking for a "tall, slender woman" with "high cheekbones & forehead." The donor must be white. My question is whether this is one pair of Jolie fans trying to bring a bit of movie magic into their homes or many couples trying to build their own Angelina army. Jolie did say she was quitting acting a while ago; is this someone's way of keeping her in the business? [TMZ]
---
Renee Zelwegger has revealed another amazing transformation. The celebrity has gone brunette for her latest movie, whhich, unfortunately is not the new Bridget Jones, but something called Same Kind of Different Me which I will likely go see but will never be as good as Bridget Jones because that's the kind of movie you can watch over and over again and cry and eat chocolate and wonder where your life has gone wrong and why no one will ever love you for you. Not that I've...ever done that. [E!]
---
Jason Derulo has bought a new house and wants everyone to know about it. I like to imagine he's there now, wandering the halls and singing "Jaaasssoooonnnn Deruuuullloooo" to himself, just like he did on basically every track of his first album. [TMZ]
G/O Media may get a commission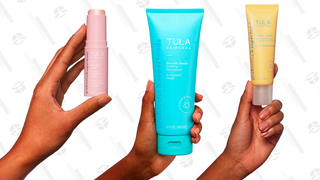 Bette Midler is sorry she ever said anything about my brother's favorite singer Ariana Grande and has confirmed that the mumble-mouthed teen sensation has a beautiful voice and can do whatever she wants. Let's hope that doesn't mean more collaborations with Iggy Azalea. [Dlisted]
Benedict Cumberbatch would prefer that you not call his fans, um, ah, "cumberbitches." [Celebitchy]
Kim Kardashian wore clothes on a magazine cover. This is a thing we are celebrating now. yet no one writes news stories about me getting out of bed and putting on stretch jeans every morning. [HipHollywood]
Tucker Max: Stop asking me about the sex tape I shot without a woman's consent consent; Start talking about all the lives I've changed! [Salon]
The kids next door are already up and singing a song about turkeys they either learned at school or at a meeting of the satanic cult they must belong to. This is their 20th go-around and I am considering going over there and speaking with an adult.
Hilary Duff still uses AOL, making her the company's only actual remaining client besides your grandma. I bet she forwards chain letters, too. It's the only way to avoid a creepy little girl standing at the foot of your bed at midnight and killing you because you did not pass on the "good luck train, choo choo!" [Buzzfeed]
Miley Cyrus is grateful that she can "live the life she's living/she can live the life she likes/She can even marry Harry/ But mess around with Ike." You know she's serious because she posted a selfie with a book. Book+Filter= Serious Contemplation. [Us]
ALERT: KALEY CUOCO KISSED HER HUSBAND. JUST JARED HAS 47 UNRELATED PICTURES. CLICK NOW. [JustJared]
Johnny Depp has zero fucks to give about your opinion of him or his shitty, shitty movies. Has he seen Charlie and the Chocolate Factory, though? Has he? [Us]
I thought everyone on Twitter was being clever, but it seems that James Cameron really did say "You will shit yourself with your mouth wide open" when discussing the Avatar sequels his upcoming movie Titanic Two: Iceberg Boogaloo [Empire]
Tori Spelling wants to replace her breast implants. And she'll do it live! On TV! (This is unrelated, but I need to tell someone: I only recently got that the title of her show True Tori is a play on the phrase "true story" and I am so ashamed of myself, you cannot even imagine. [L&S]
Jennifer Aniston has not been nominated for an Independent Spirit award despite the fact that she did a movie where she emoted while wearing no makeup. Some say she was robbed and I agree. I loved We're the Millers! [Celebitchy]
Melissa Gorga is celebrating no more beavers in her life. [Reality Tea]
Jessica Alba has two Thanksgiving turkeys this year. What the hell is going on with celebrities this morning? I am trying to find the juiciest gossip for you and all I am getting is people being grateful and handing out recipes for Jalapeno stuffing. STUFFING. Can't you get drunk and yell at someone, Alba? What is wrong with you? Why won't you help me help you? [Us]
Nick Cannon Konfesses Karnal Konwledge of Kountless Kardashian. Kare? [BBC]
It's Thanksgiving! Let's spend the day together and be nice to each other! Here are several full-length movies to get you through this fine h
Lead image via Getty