Sarah Ray was on the way to celebrate her nuptials when duty called. The off-duty paramedic had just said "I do" when she received a call that turned her wedding day from joy to a tragedy—her father and grandparents had been in a car crash on their way to the reception.
According to US News & World Report, Ray—whose side-of-the-road wedding photo has gone viral this week—was devastated to hear of the accident and immediately dropped what she was doing to race to the scene of the crash with her new husband. Fortunately, Ray's father and grandfather are fine and her grandmother, who sustained injuries from her seat belt and air bag, is expected to make a full recovery, but Ray's dedication to her family, even on what's often termed "the most important day" of someone's life is a refreshing departure from all the bridezillas one sees on reality TV.
From US News & World Report:
"One of the first things she [Ray's grandmother] said to me was sorry she ruined my wedding day," Ray said. Ray assured her grandmother she had done no such thing.
Ray went back to her wedding, but not before her mom got a picture of the bride hiking up her dress to walk away from the accident; ambulances served as her backdrop. And once that picture was posted, Ray's nuptials were celebrated not just by her family and friends but by the entirety of the Tennessee county in which she resides (as well as a good portion of the internet):
The photo was posted to the Montgomery County government's Facebook page with the caption, "How dedicated are you to your job?" The caption briefly explains the circumstances of the photo and concludes, "Thank you, Sarah, for loving what you do!"
G/O Media may get a commission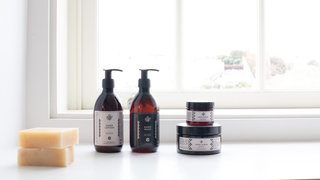 Exfoliate and Hydrate
The Handmade Soap Company
The 29-year-old newlywed says she's been called a hero, but doesn't believe she's worthy of the title, telling ABC News that she did what any first responder would have in her situation. And the fact that she stopped her wedding to check on the safety of others isn't out of character for her. Ray, and her husband Paul, also a paramedic, have stopped to help when they've seen accidents before. "It just so happened that this time, I was in a wedding dress," she said.
But if going viral wasn't enough of a surprise, Ray got another one, in the form of a statement by Chief Jimmy Edwards, a paramedic and nurse who works with her:
"Professionally, Sarah is an outstanding paramedic and exemplifies what it means to work in EMS," Edwards said. "Personally, she is humble and compassionate and sets a good example for us all. We are all very proud of her."
Edwards will hang Ray's picture in his office as a reminder of her dedication.
---
Contact the author at mark.shrayber@jezebel.com.