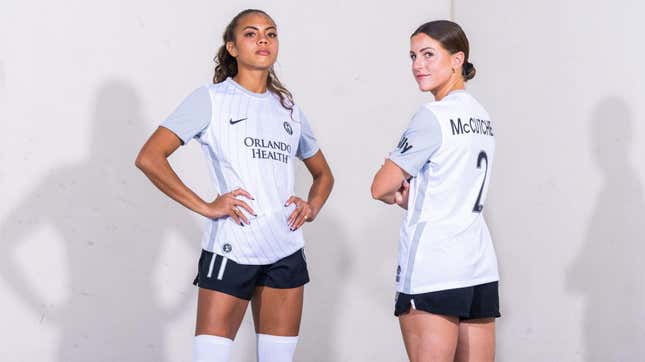 The Orlando Pride just became the first team in the National Women's Soccer League (NWSL) to ditch their white uniform shorts so that players don't have to worry about their periods.
On Tuesday, the Pride announced that they'd be updating their Luna Kit, previously the team's all-white uniform, by replacing its white shorts with dark shorts. In a statement, the team said the change had been made in hopes of making "players more comfortable and confident when playing during their menstrual cycle."

"We must remove the stigma involved in discussing the health issues impacting women and menstruating non-binary and trans athletes if we want to maximize performance and increase accessibility to sport," said Haley Carter, the Orlando Pride VP of soccer operations and general manager. "I am proud to be part of a club that is making a small but extremely impactful change when it comes to both our professional and youth players. The experience that players have and the safety and comfort they feel when wearing an Orlando Pride crest is a critical area of focus for us."

"The reasons behind not wanting to wear white shorts are clear, but it is unfortunately something that hasn't been addressed until recently," Orlando Pride midfielder Erika Tymrak said. "I think it's a big step for us as a club to make players feel comfortable and allow us to focus solely on competing."

Though the Pride are one of the first American professional sports teams to move away from white shorts, they follow in the footsteps of a growing contingent of UK soccer teams. During the 2022 European Championship, Beth Mead, a star forward for the Women's Super League club Arsenal and the England national team, said the white kit she was required to wear was often "not practical." In 2022, Manchester City became the first team in England's Women's Super League to ditch their own white shorts. In tennis, Wimbledon also "relaxed" its all white requirement for the first time in November of last year.
When we talk about equal rights in women's sports, we often point to the tiny paper cuts these athletes face on a daily basis that makes their jobs harder than male athletes'. The subtle anxiety about whether or not your period might show up on your shorts while you're trying to perform at an already high-stress, physical job (and knowing how squeamish the general public still is about menstruation, in general) is just another thing that male athletes and their fans never have to think about. Ditching white shorts is a welcome progression within the sporting world, but it's also frustrating that something so basic has taken this long (WNBA and Los Angeles Sparks player Nneka Ogwumike commented on an ESPN post about the news that she "tried talking about this with @nikebasketball when they insisted on having white uniforms and CRICKETS").

There's a long way to go until women athletes feel their voices are heard on matters as big as equal pay or as small as uniform choices; but in the meantime, fans can celebrate The Pride's new kit on March 26 when they face the Portland Thorns in the 2023 NWSL season opener.