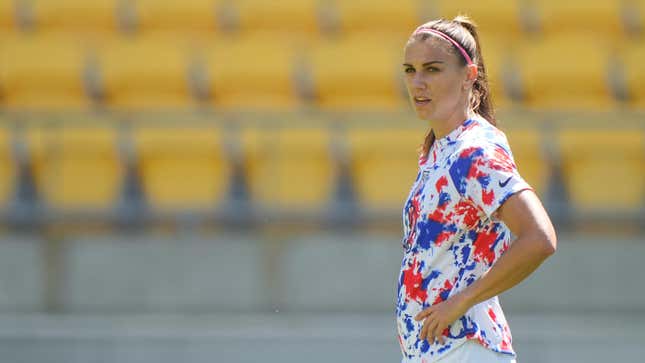 Last week, reports broke that FIFA might soon confirm Saudi Arabia's tourist board, Visit Saudi, as one of the Women's World Cup title sponsors. Human rights groups quickly expressed outrage at the possibility of an international women's soccer event receiving money from a country notoriously antagonistic and often violent towards women. Now, one of the biggest names in U.S. soccer is lending her voice to the fight.
Ana Gasteyer Satirizes the Girl Boss in 'American Auto'
Ahead of the SheBelieves Cup, U.S. women's national team player Alex Morgan told reporters on Wednesday that the prospect of Visit Saudi sponsoring the World Cup is "bizarre," according to The Athletic. The country still classifies homosexuality and gay marriage as illegal and only began allowing women to watch football matches in 2018.

"I think it's bizarre that FIFA has looked to have a Visit Saudi sponsorship for the Women's World Cup, when I, myself, Alex Morgan, would not even be accepted and supported in that country," the 33-year-old San Diego Wave FC striker said. "I just don't understand it. I think that what Saudi Arabia can do is put an effort into their women's team that was only formed a couple of years ago, and doesn't even have a current ranking within the FIFA ranking system because of how few games they've played. That would be my advice to them, and I really hope that FIFA does the right thing. I mean, pretty much everyone has spoken out against that, because morally, it just doesn't make sense."

The Australian and New Zealand football associations asked FIFA last week for more information about the sponsorship, telling The Athletic they were "very disappointed" FIFA did not raise the question of the sponsorship with them in advance. The United States Soccer Federation has also released a statement admonishing the news:
"U.S. Soccer strongly supports human rights and equity for all and believes in the power of our sport to have a positive impact. Our values, principles and vision guide our decisions in choosing which sponsors and partners with whom we directly align. While we cannot control how other organizations manage sponsorship selections for the tournaments we compete in, we can voice our concerns and we will continue to support our players."
G/O Media may get a commission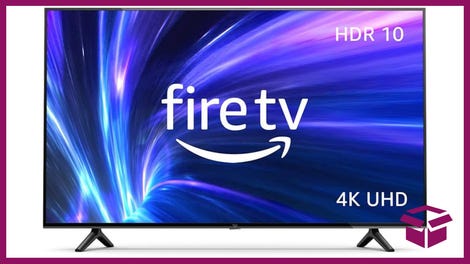 42% Off
Amazon Fire TV 50" 4K Smart TV
Despite the uproar from these organizations, and even with the addition of a prominent voice like Morgan's, FIFA has long been known for its reprehensible judgment when choosing venues and sponsorships for its tournaments—and loves a good sportswashing opportunity. The 2022 World Cup, for example, was held in Qatar, where at least 6,500 migrant workers died in harsh conditions and record heat while building stadiums for the event.
To date, FIFA has not ​​seemed to budge on the matter of Visit Saudi's sponsorship, but U.S. Soccer remains insistent that their players shouldn't be forced into condoning a country where women still need a man's permission to get married, receive certain types of health care, and have abortions.