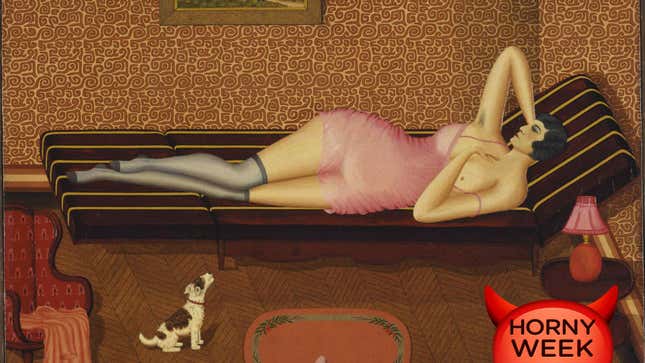 Kink is out there. Every bisexual girl in Brooklyn is asking to be choked by a software engineer in a Carhartt beanie. Our Boomer parents are binging shows about polyamorous septets constructing rooms designed specifically for cuddle puddles. And chances are you'll run into a nice couple you know on hookup app Feeld, where they've publicly stated their interest in exploring threesomes, tantric massage, and flogging. It's only a matter of time before this eroticism finds its way into the very interiors of our homes. Every home, in fact, has the potential to be a horny, horny home.

"When I think of horniness and interior decor, I think of spaces that are designed for fucking," says Alana Hope Levinson, a writer and editor who currently writes the Trend Times column at Dwell. She also happens to be a self-proclaimed horniness expert. "I definitely think of '80s coke dungeon mirrors on the ceiling. When you have a mirror on the ceiling in a bedroom, obviously that's horny because it implies that sex happens there."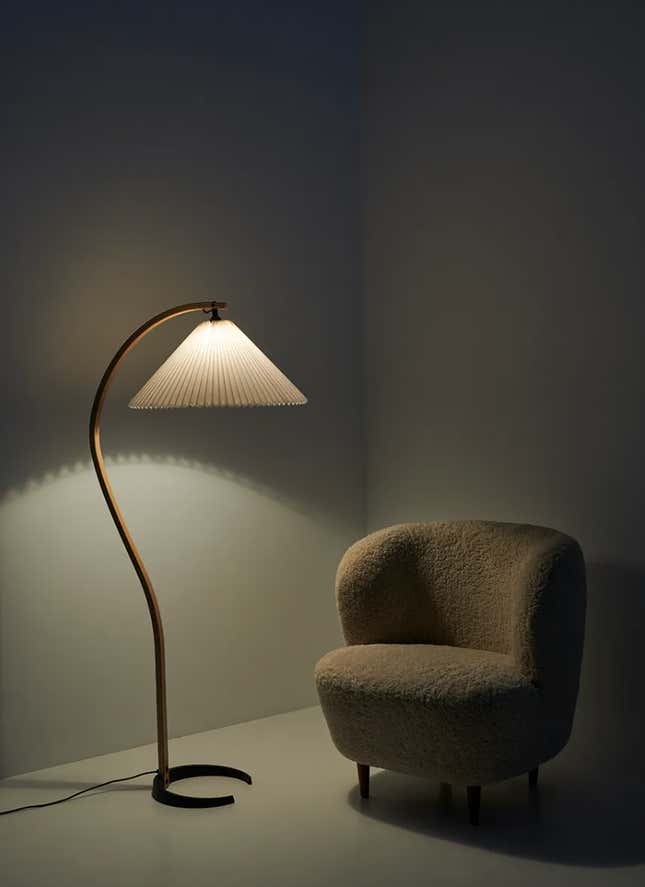 But intentionally designing one's home with sex in mind is an artform—one that's rendered some accent pieces passé. Gone are the days of sexless naked silhouette vases and sterile boob mugs. A living room should have the capacity to give a potential paramour "fanny flutters," and thoughtful interior design infuses a room, if not with on-the-nose lust, then with a come-hither aura of horniness.
Levinson finds textures, in particular, "very horny," from the fake sheepskin of a bouclé chair to a cloud sofa topped with fur. Perhaps the sleekness of a laminate vanity, a slippery Lucite bookcase, or a black-lacquered desk—the sort of furnishings one would spot in a robed Mrs. Robinson's house, right before she brandishes a crystal martini glass—might arouse visitors. Glass coffee table tops and mirrored furniture characteristic of "sugar booger" decor condone the deed, too. "You want different surfaces for different horny acts…circular beds, Love Hotel stuff," Levinson says, adding that her last home, with its mid-century lips painting, fur rug, and plant nursery, was lovingly nicknamed the Horny Haus.

Another horny room indicator? Feet. Levinson has noticed an influx in chairs or dishes with either "little monster feet" or "human feet." It's both a callback to a Beauty and the Beast brand of grandeur, and linked to the organic design aesthetic, which uses natural lines and materials to mimic the curvature of our bodies. If the pandemic was all about abandoning minimalist taste in favor of a maximalist explosion of color and quirks, she suggests, the current cooldown is a rejection of those quirks. Titty paintings and naked body candles are so stereotypically sexy that they've crossed over into an unsexy wasteland. Feet, on the other hand, have acquired horny decor status because, save for our foot fetish lords, their structure isn't explicitly hot.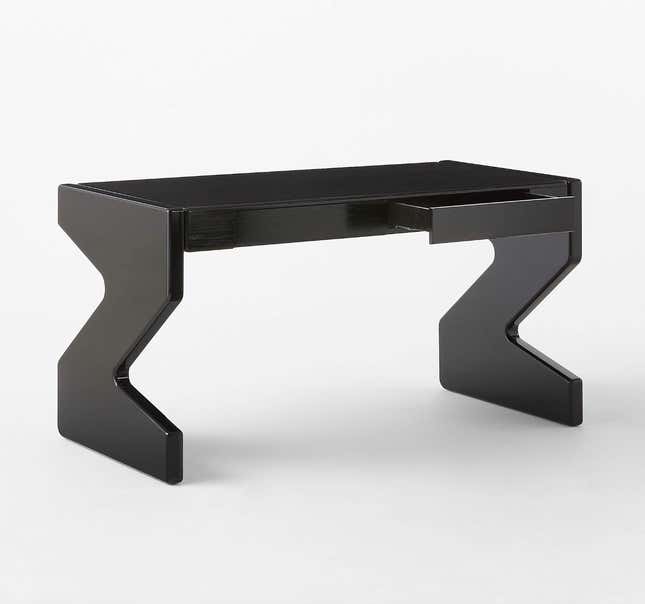 Herman Wakefield, "creative director" of the popular meme page Northwest MCM Wholesale, has noticed a similar shift away from on-the-nose sexiness. It's as if burnout is hitting those who happily gobbled up Togo sofas, bright pop colors, and "almost ugly" statement pieces in the wake of the pandemic to sex up their homes.
"I think people have sort of a bold, ostentatious design hangover. Now they're looking for more functional pieces and less peacock feather-esque items to attract a mate," Wakefield, a fake name he uses to protect his anonymity, says. "People are now looking for things like a weird folk art sculpture or something abstract like a tumbleweed on the wall to bring tension and moodiness to the home."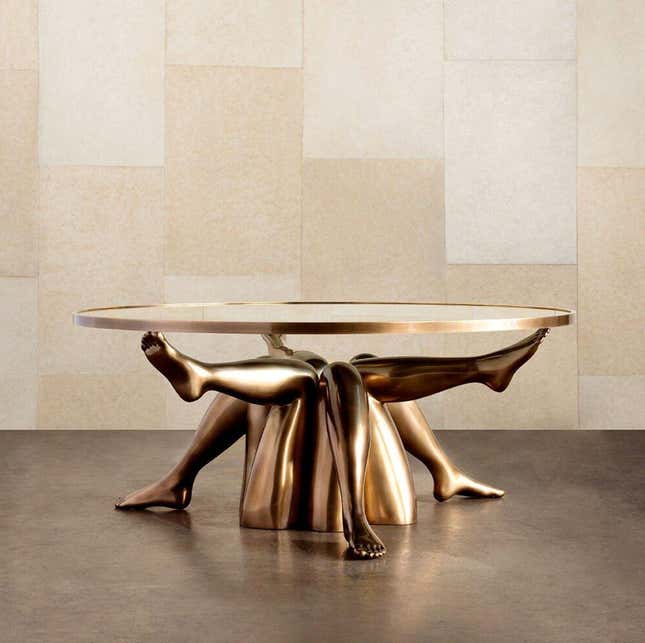 In that vein, it's difficult to imagine a better way to introduce sexual tension into a room than with mood lighting. Wakefield recalls one of his "design-sensitive" straight friends complaining about his "depressing" house, to which Wakefield suggested he needed to fix his "crappy overhead lighting." ("Oh shit, man, you're right… There's no lamps in here!" said friend responded.) Floor lamps, table lamps, and desk lamps all lend themselves to fuckable lighting design, Wakefield says. He recommends the GUBI Timberline floor lamp, which is described as having a "a sinuous organic form."
Though the 2019 explosion of boob-shaped decor left many of us with a milquetoast aftertaste, Wakefield notes that there are a limited number of shapes we can model furniture after. (Though that doesn't excuse art sellers on Etsy reproducing the shape to "Live, Laugh, Love" levels of cringe.) Given that our bodies are naturally occurring, it makes sense, he says, that the shapes of our sex organs get pulled into design. American artist Isamu Noguchi's work, for example, is often referred to as phallic, but Wakefield thinks he was more likely just exploring natural forms.
"Sometimes, people will say, 'Oh, look at that tree, how phallic!' or 'Look at the Grand Canyon! What is this? A feminist art statement?'" he laughs. "I think we reverse engineer a lot of our ideas about design. Those forms are naturally pleasing because they're based on natural design laws, and happen to correspond with parts of our anatomy."
While conspicuous tits are no longer subversive, Levinson believes one way to make a home horny is with an artistic gesture to phallic forms. (As Wakefield says, penises can serve as inspiration to decorative objects, but it's far less common to see a straight-up dick in someone's dining room.) "I actually have a collection of dicks. I love dick [sculptures]. If I'm traveling and I see a ceramic dick, I'm buying it," Levinson says. "I have three in my house. We just don't see the male form in that way often enough."
During quarantine, sex and flirtation were constrained within our own four walls, so we got publicly horny for pretty much anything that could remotely inspire fucking. A friend of mine recently described himself as a "dirty little slut" for home decor, as if Hot Girl Summer had collided head-on with HGTV programming. As Diana Budds writes in New York Magazine, "Very sexy sex isn't aspirational enough anymore; people demand a dream home to have it in."
"We were projecting all of our anxieties onto the place we were stuck inside, including horniness, because our house was suddenly our gym, our workspace, and where our kids went to school," Levinson says. "So, we had to try to create escapism through our house, and we did that by saying, 'Well, this is my horny room now! It's not just where I sleep and work and eat now. It's horny.'"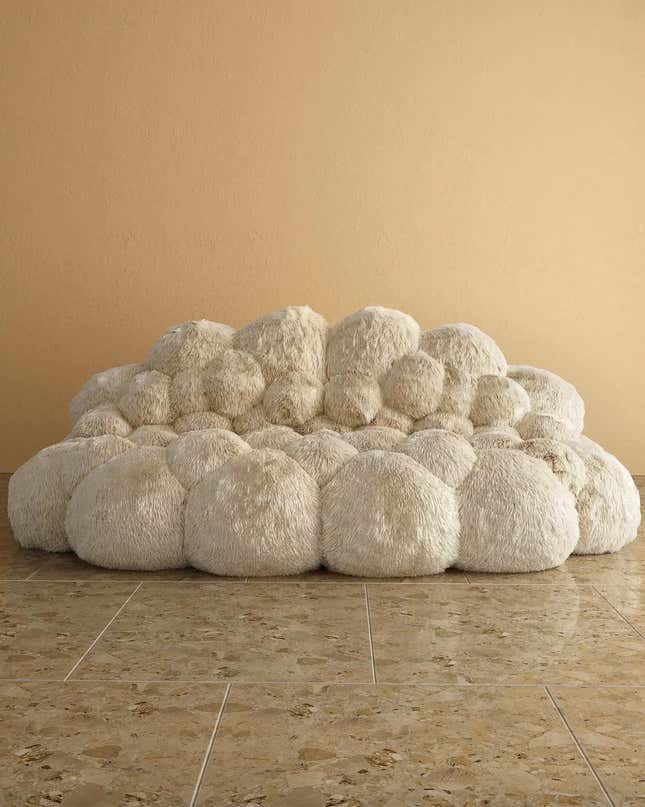 Wakefield says that lots of romantic partners saw the demise of their coupledom in quarantine, which caused a boom in "weird, covid hookup culture" and, simultaneously, sexed-up bachelor pads with expensive Eames loungers. Now, as new relationships and norms like ENM are forming, he thinks consumers—namely, straight men who were "metrosexually design-pilled" over the course of the pandemic—are looking for finesse: less Burt Reynolds with a box of See's chocolates, and more Pedro Pascal with psychedelic-infused bubbly.

But in an era in which Levinson says we're obsessed with codifying aesthetics, horny decor is, really, whatever makes you want to fuck. That might be an object as explicit as a sex swing, or as subdued as the color lavender. Perhaps, to you, white walls aren't clinical, but a total turn-on. And if a titty vase as the centerpiece for your dining room table floats your campy boat, then utter a hearty "Fuck you!" to the purveyors of so-called taste.
Read the rest of Jezebel's Horny Week 2023 stories here.