On Thursday, Oprah released her annual Favorite Things list via O, The Oprah Magazine. With an astonishing 104 items, it's billed as the largest ever, and as always it's a wild ride full of luxurious things I'd love to own if I had a house sprawling enough for more than two throw blankets.
But does Oprah really have 104 Favorite Things? It seems highly likely there are some filler items—odds and ends that she thought were fine and filled important holiday gift guide niches but once they run out she's not restocking them in the guest cottage because frankly they were a little SkyMall to start with. Here is my attempt at spotting them.
Oprah says: "If it were possible to get a PhD in cake, Gayle King would be a doctor of frosting! So when she declared her love for this chocolate cake with vanilla mousse—which may look like a potted poinsettia but is entirely edible—I knew I was in for a very sweet treat."
G/O Media may get a commission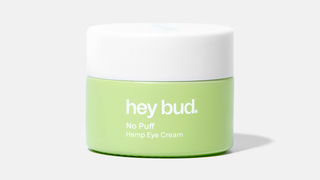 15% off
Hey Bud - No Puff Hemp Eye Cream
I say: Yup, looks like a really elaborate cake to me.
Oprah says: "When I'm home, I wait for the clouds to start rolling in so I can curl up next to the fireplace. With these pinecone-shaped, scented fire starters, made from organic beeswax, wood, and essential oils, I'm in for an evening of pure coziness."
I say: Is this what I'm smelling every time I walk into the front of a Bed Bath and Beyond, or is it the scented decorative pinecones?
Oprah says: "My friend Urania has something like this, and I think it's so cool—because I always lose my phone! Wear it as a cross-body or a wristlet to stow your credit cards and cell safely and stylishly."
I say: Oprah thinks it's cool, but note that Oprah does not say she never leaves home without hers.
Oprah says: "This brushed-jersey number is the love child of a cowl neck and an off-the-shoulder top and feels divine either way you wear it."
I say: If you're in the favorite-things income bracket, do you really need a shirt that's both off-the-shoulder and cowl neck? Wouldn't you just buy a cowl neck AND an off-the-shoulder top?
Oprah says: "I didn't realize I needed a new pair of Beats, but this wireless version has Fast Fuel, a quick five-minute charge that yields one hour of playback. Now that's my jam!"
I say: Nobody really likes earbuds.
Oprah says: "When linen meets organic cotton terry, you get a really sublime robe, perfect to wear while unwrapping presents on Christmas morning. You'll be in good company: I gave these to the cast of Queen Sugar as a series premiere gift."
I say: Bathrobes are a scam.
Oprah says: "I'm keeping my ever-growing glasses collection in these velvet-lined, high-gloss cases, which hold four or eight pairs."
I say: ?????
Oprah says: "I've had sorbet almost every night since starting Weight Watchers. (Fruit = zero points!) This gadget turns frozen fruit into soft-serve with no dairy or added sugar. Amen!"
I say: I know an expensive kitchen dust-catcher when I see one.
Oprah says: "Attention, shoe fanatics! These colorful unisex laces—available for sneakers, dress shoes, or boots—will add kick to your kicks."
I say: These are shoe laces.
DROP Bottles (water bottles designed so you can include fruit)
Oprah says: "In a perfect world, we'd need to stay potato-chipped instead of hydrated. Plain old water has never been my favorite, but when I fill this infuser with slices of orange or cucumber, the BPA-free bottle becomes a party."
I say: Keep them in the back of your cabinet next to your sorbet maker.
Oprah says: "Your ponytailed friends of all ages need these sweet stretchy hair ties in delectable packaging. Let's face it: Woman cannot live by scrunchies alone."
I say: Fancy hair ties are what you get your brother's girlfriend the first time she's been around long enough to exchange gifts but before you really know a damn thing about her.
Oprah says: "It's no secret that I love sharing quotes with my friends, and Bold Moves presented by OWN is a new game that allows you to do just that—but with a twist: You have to solve a puzzle to unlock the inspirational words. Free."
I say: Cut to Oprah HQ. "We're still hovering at 102? Well, we want at least one freebie on there. What've the app guys been up to lately?"
Oprah & Deepak's 21-Day Meditation Reinvention Collection
Oprah says: "The newest trilogy from Deepak Chopra and me is all about reinvention. Whether you want to shed pounds or make new connections, we're here to guide you."
I say: Back to Oprah HQ. "I know we've got something that can put us over the top with 104. Come on. There's got to be something." Oprah's eyes roam her shelves for several minutes before landing on a solution, one that—coincidentally—was on last year's favorite things list as well. "All right, it's a wrap."