What a beautiful story this is: Emma Stone and Andrew Garfield spent an entire day at Disneyland on weed and according to him, it was "literally heaven."

Halfway through this interview with W, we learn that Andrew Garfield spent his 29th birthday high as a kite at Disneyland with Emma Stone and eight of his closest friends, really realizing things, much like a high school sophomore does when they cue up The Wizard of Oz and "Dark Side of The Moon" for the very first time.
Garfield had a hard time with the "It's A Small World" exhibit, realizing that yes, indeed, it is a small world after all. He also rode Space Mountain three times in a row. My favorite anecdote from this interview is presented below:
"There was moment when me and eight of my closest friends found ourselves, we didn't even realize anyone else was doing it," he said. "We were walking through Fantasyland and there was a song that was playing out of the trees and we were all doing this, dancing through, and I think at one point we all started to look around going, 'We're all doing the same dance, how did this happen?'"
G/O Media may get a commission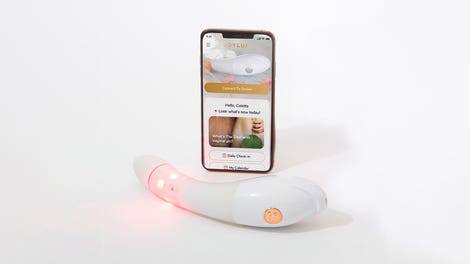 $50 Off
Joylux vFit Gold Device
What would you do if you stumbled upon Andrew Garfield and Emma Stone accompanied by eight other dorks doing some sort of choreographed dance to the music playing out of the trees in Fantasyland? Would you assume they were high or just quirky? Would it make your day or ruin it? Were there shrooms in the brownies as welll? What kind of pot brownies would make one human this stoned?!
I'm not even mad about it! I just want answers.
[Page Six]
---
A humble request: can we stop letting Justin Bieber assume responsibility for pets?
TMZ reports that just months after adopting Todd, an extremely adorable chow chow puppy, Bieber has given said dog to one of his backup dancers because he doesn't have time to take care of it, what with his busy schedule and all.
C.J. Salvador, the backup dancer who assumed responsibility for Todd, has one small issue: Todd needs surgery that costs $8,000, to correct severe hip dysplasia. There's a GoFundMe set up for this cause and they've met their goal, so don't worry about Todd. He's going to be fine But, TMZ notes that while Jaden Smith donated to the cause, the Biebs has not. C.J. didn't bother asking Bieber for the money because he "didn't want to bother him."
Here's Todd, so we're all on the same page.
Justin Bieber is bad with animals! Remember OG Mally? Start the Change.org petition. Do whatever you need to do. Don't let Justin Bieber have any other pets.
[TMZ]
---