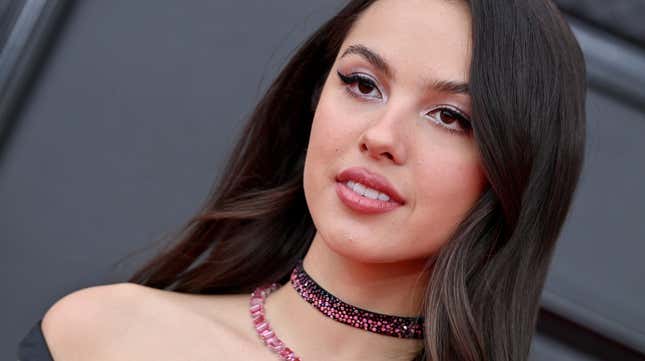 I miss driving. It's strange that someone who spent the better part of a decade kvetching about Los Angeles traffic and shoddy roads and brake-happy assholes might feel this way, but I do. I look for every opportunity to hop in the driver's seat, scoot my sunglasses up the bridge of my nose, and crack the windows. Nothing compares to driving down the Pacific Coast Highway on a warm afternoon, but getting behind any wheel is enough to jog this memory: salted wind at my cheeks, an infinite horizon splitting the sky and sea, Olivia Rodrigo's Sour cranked all the way up.
Olivia Rodrigo's Gen-Z Fans Made Me One, Too
I never used to identify as an obsessive—the sort I associate with the fangirl communities surrounding BTS or the Free Britney movement—but something about the songwriter with her reformed Disney image changed my listening habits. She was just 18 when Sour debuted in 2021, yet it became the soundtrack of my and so many other young people's lives—the forward motion in our melancholic drives on the freeway or our reflective walks down the West Side Highway. And by the end of month, we learned this week, there'll be new Olivia Rodrigo music to cry (or shout) to called "Vampire." With every earnest bone in my body, I'll tell you that I cannot wait.
Other than being astrological twins (we are both Pisces suns), my fangirl-dom for Olivia Rodrigo doesn't make any sense. She's practically a child, while I'm 10 years her senior. She's beautiful, stylish beyond comprehension, and unnervingly cool, the sort of girl I would've hate-stalked in high school. She's unknowable, her fame makes her inherently unrelatable, and she probably doesn't think about the woes that plague those of us entering our 30s, either—like Plantar fasciitis or sleep hygiene or Botox.
But I want to be her, or maybe be friends with her, or curl up in her brain while she tinkers with compositions on the piano. She's offered herself as a comrade for everyday girls and women, and when I listen to her, I feel like the sidekick to her baby-goth superhero.
We don't yet have much of a clue what the aesthetic or sound of Olivia's sophomore effort might be (acidic, if we're lucky), but I have a feeling that "Vampire" will possess the same breezy universality of songs like "Good 4 U" and "brutal." Not to say that Rodrigo's music lacks complexity, but she gives us permission to be consumed by our base desires and instincts. Lines like "I hope you're happy/but don't be happier" and "I'm so sick of myself/rather be rather be/anyone, anyone else" come to mind. Sonically, those songs evoke the pop punk songs that were ubiquitous in the early and mid 2000s and on repeat in Hot Topics everywhere—when teens like me bristled at the world and let our angst drive our every poorly thought-out decision.

I think that's why I feel like I know her: She makes music about the stuff taking up space in the center of our hearts, the emotions we avoid acknowledging as we get older and pretend as though we're increasingly unflappable. Jealousy. Yearning. Rage. Dejection. And I've learned that is what turns me into a fangirl.