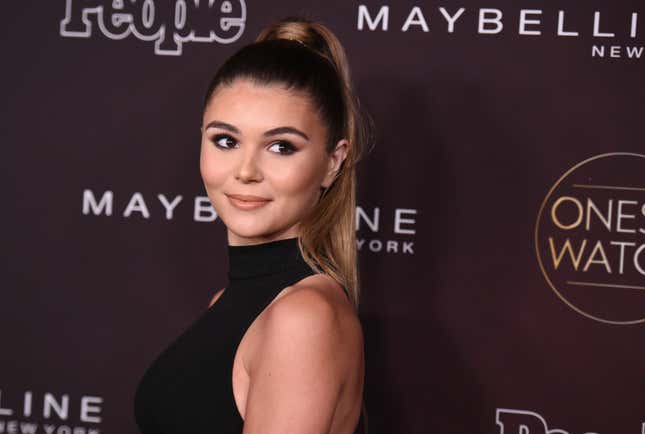 Ah, a new year! A fresh start! All of the bad things have been left in 2020, certainly none of them remain in 2021! Ha ha ha!
This is what I imagine to be Olivia Jade's internal monologue in this Instagram, which I can't stop watching on loop because the dance she's doing in it has the same energy as the one from Rebecca Black's "Friday" music video, or the one Hilary Duff does at the end of The Lizzie McGuire Movie.
For your consideration:
In the caption, Jade humbly requests that 2021 "just keep the vibes good, k?" now that her mother Lori Loughlin has been released from prison after serving a two-month sentence for her involvement in the college admission scandal.
And I suppose for Jade there's sufficient reason to think that 2021 will bring chill vibes: Loughlin is likely to return to acting just as she hopes, and Jade has said she may return to YouTube. Nature (the rewards of class privilege) is healing!
Yes, it must be good to be Olivia Jade, glimpsing all that will unfold in the new year through fresh curtain bangs.
---
And what kind of energy is Armie Hammer trying to bring to 2021?
Glad you asked...
---
The Ellen Degeneres Show is continuing its hiatus, given the massive surge in covid cases in California. The covid situation is tragic, but I can't say I'll miss Ellen or Ellen! [Pink News]
Relatedly, Kardashian family associate Khadijah Haqq McCray just realized there's a "real life pandemic" happening. [Twitter]
The final Jeopardy! episodes that the late Alex Trebek hosted will air this week. After that we're stuck with Ken Jennings for a bit, who's in the running for the job along with a lot of other people I wouldn't particularly enjoy watching, like Neil deGrasse Tyson (an accused sexual harasser) and George Stephanopoulos. Pass! [New York Post]
A royal expert has predicted that Harry and Meghan are in for a "very awkward" reunion with the other members of the Royal Family post-Megxit. I could have predicted that, I'm royal expert. [Us Weekly]