On Thursday, Director Oliver Stone defended Harvey Weinstein against mounting allegations of harassment and assault, telling the Hollywood Reporter that what he is "going through" is "not easy" either. Stone later dropped that position and recused himself from Guantanamo, a series he was working on with the company, as long as they were involved. Since then, two women have accused Stone himself of harassment and groping.
Former Playboy model Carrie Stevens tweeted that Stone grabbed her breast as he walked past her at a party to say hello:
Variety reports that she elaborated on Facebook:
"I was only 22 years old. Oliver walked past me and grabbed my boob as he waltzed out the front door of a party," the now 48-year-old wrote on Thursday.

"I still remember the cocky grin on his face like he got away with something," she added. "These douchebags are not above the law, and they should be held to the same standard as every other man. It's common decency NOT to grab boobs, pu–ies (like our President does) … or any other body part of another, uninvited. They should go back to preschool, because they must've missed the lesson … 'keep your hands to yourself.'"
G/O Media may get a commission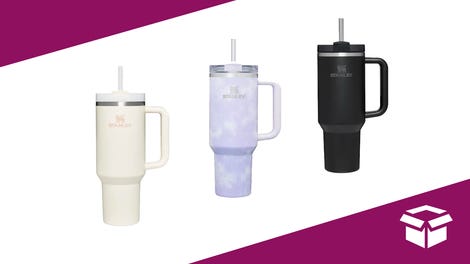 Up to 45% off
Stanley Cup Sale
And actress Patricia Arquette also alleged on Twitter that Oliver Stone was suggestive with her after they met to discuss a role that included some "very sexual" material. He then sent her flowers, and invited her to a screening of Natural Born Killers. Feeling uncomfortable, she brought her boyfriend. Stone allegedly confronted her about why she would bring a guest, and the movie role never materialized:
Stone's reps didn't respond to Variety's request for comment.