It seems that theirs is a love that will never die: apparently Kourtney Kardashian has let Scott Disick back in her home just in time for the holidays.

Even though I think Scott is trash, Kourtney doesn't and no one asked me, so it is what it is, I guess! A source told Us Weekly that he's on his best behavior. "He has really cleaned up his act and been well behaved," the source said. "Kourtney is always skeptical about how long it will last, but she has been very encouraged to see how much he has been trying." A healthy dose of skepticism is prudent, Kourt, so at least there's that.
Lord Disick and Kourt went on a romantical vacation to Cabo last week – his idea, natch– and all seemed to be fine. While I'm sure Kourtney's children are thrilled to have their bearded and brooding papa back in the house, one wonders just how long this will last.
"Of course he hopes one day she will see the light and come back to him," the insider – clearly Scott Disick himself, right? –said. "That's why he went to rehab. He has tried everything, but it's Kourtney who won't go there. I still think it could happen one day, but so far Kourtney has not been willing to go back there."
G/O Media may get a commission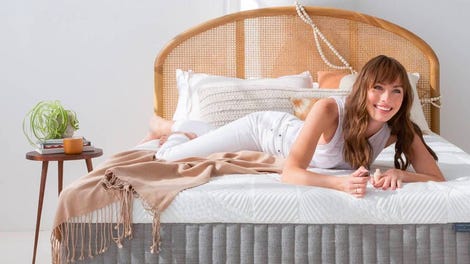 Sleep Sale
Sleep Sale - Brentwood Home
Ugh. Stick to your guns, Kourt.
---
Kaley Cuoco, star of that show about nerds and science that is somehow still on television, has had plastic surgery and is LOVING it!!!
"Years ago, I had my nose done. And my boobs — best thing I ever did," Cuoco told Women's Health. "Recently I had a filler in a line in my neck I've had since I was 12. As much as you want to love your inner self … I'm sorry, you also want to look good. I don't think you should do it for a man or anyone else, but if it makes you feel confident, that's amazing."
You know what? Fuck it. Get that work done, who cares, it's fine, there are other things to worry about! Worry about those other things. Let this slide.
[People]
---
This child is adorable and better at applying lipstick than I am.
[MTV]
---