After Octavia Spencer won her Oscar, she was approached to endorse a weight loss product called Sensa. Only because Octavia Spencer is Octavia Spencer, she promoted the product as ethically as possible, making her compensation from Sensa publicly known. That honesty was apparently too much for Sensa: according to a suit filed by Spencer, the company owes her $700,000 of her $1.25 million contract.
Court documents obtained by the Hollywood Reporter indicate that after winning Best Supporting Actress for The Help in 2011, Spencer was asked by Sensa to try their weight loss product, a powder that is sprinkled on food that's also been endorsed by the Millionaire Matchmaker. Sensa allegedly prompts you to eat less; the taste and smell of the ingredients — a combination of maltodextrin, tricalcium phosphate, silica and other flavors — is supposed to make you feel full. The makers of Sensa claim that you can lose up to 30 pounds in six months just from using their product, though no peer-reviewed journals have proven that it's actually that effective. Skeptics say that it could provide moderate weight loss, but that any weight loss that extreme is probably due to other factors, like eating healthier or working out more.
That being said, Spencer tried out Sensa and liked it. "...she realized a five pound weight loss during the time she was on the product and thought that the product might help other women who had weight issues," the court documents state. Spencer agreed to endorse the stuff, but told the company that she "was interested in living a 'healthier lifestyle' and was not interested in significant weight loss." She told Sensa she wouldn't lose more than 20 to 25 lbs.
Spencer had other clear stipulations: She didn't want the weight loss ads to use "Before and After" photos, she didn't want to do infomercials and she was against having the ads be in low-caliber publications like tabloid or gossip magazines and websites. Additionally, she said that while she would tweet about the product, she would only do so using the hashtag "#spon", which would indicate to her fans that she was getting paid to endorse this product.
G/O Media may get a commission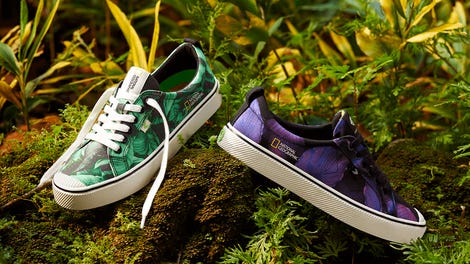 New New New
Cariuma + National Geographic
Sense agreed to these stipulations – the transparency about sponsorship on Twitter is actually an FTC requirement – at least for a while. Eventually, they started pushing back. They wanted to her to remove "#spon" from her tweets. According to the lawsuit, "Sensa's reasoning for Spencer to remove the #spon from its tweets was simply that its past celebrities never used the #spon language." They wanted Spencer to do "Before and After" shots, which she eventually complied with, against her original wishes. She also let them put ads in magazines she had previously not been comfortable with, like Ok! and Star, which made Sensa hungry for more, and they attempted to publish and article that "contained the sensationalized headline entitled 'OCTAVIA SPENCER'S THIRTY POUND SLIM DOWN!'" Spencer did happily participate in articles for publications like Shape. In the meantime, she kept up with her mandatory weigh-ins and lost 20 lbs over five months.
The ads that aired were relatively low-key – and mildly hilarious now. They describe most diets as "frienemies", arguing that Sensa is your friend. "Does your best friend tell you how to live, what to eat?" asks Spencer. "'Course not. Good friends don't judge, they encourage, they offer support. And I'm happy to say I found a good friend in Sensa."
But Spencer's good friend Sensa became frustrated. Sales were not as good as they hoped:
Sensa stated that its research showed that Spencer was only relevant to its target audience when her awareness in the media was high. Sensa further admitted that its research indicated that while some consumers recognized Spencer's weight loss success, many did not recognize who she was or that she had lost weight.
At this point, Sensa started to act shady, sending Spencer a termination letter that said that she was in breach of her contract for her tweets and the failure of the advertisements. Spencer's team says that was just a way to try to avoid paying her the full amount she was due. Unsurprisingly, Spencer is now nowhere to be found on Sensa's website under the "Celebrities" category, though she was previously featured prominently. A YouTube commercial embedded on a blog post she wrote on the company's site in February has been moved to private, as have all her other ads on their channel, including her appearance on The View touting their product. One of her print ads is selling on eBay for $4.99.
Despite the company's frustration with Spencer, it's Sensa that's the problem, not her. Earlier this year, Salon wondered if Spencer was a victim of the "Oscar curse" because she'd stooped as low as to do weight loss ads. Their concern was clear: a celebrity's brand has far more to lose from associating with a weight loss company than that company has to lose from getting that celebrity's endorsement, however unprofitable. And this isn't the first time Sensa has been sued – and is hardly the first time any company selling weight loss product has been sued. Earlier this year they settled a suit in California of almost $1 million for false advertising charges.
Spencer is suing Sensa for breach of contract and fraud, arguing that after she sent them "a notice of breach for failing to make payment to her, Sensa fabricated an after-the-fact breach of endorsement agreement," claims that Sensa has not yet responded to. On top of it all, the company has yet to donate the $100,000 they promised they would to fight childhood obesity. What the hell.
Octavia Spencer's Tweets at Center of Endorsement Lawsuit (Exclusive) [THR]