Last week, North Carolina Governor Pat McCrory signed into law a draconian bill that repealed every local LGBT anti-discrimination law and requires people to use the bathroom that corresponds with the biological gender written on their birth certificate. Obviously, this has prompted massive backlash.
In a rare moment of synergy, Gov. Andrew Cuomo and New York City mayor Bill de Blasio have both issued bans on nonessential government travel to North Carolina in protest of the new fast-tracked law, which was introduced last week in the North Carolina House one hour before it was up for a vote, before many lawmakers had even read it.
"In New York, we believe that all people—regardless of their gender identity or sexual orientation—deserve the same rights and protections under the law," said Governor Cuomo in a statement. "From Stonewall to marriage equality, our state has been a beacon of hope and equality for the LGBT community, and we will not stand idly by as misguided legislation replicates the discrimination of the past. As long as there is a law in North Carolina that creates the grounds for discrimination against LGBT people, I am barring non-essential state travel to that state."
At an unrelated press conference on Monday, de Blasio confirmed his support for the travel ban, and said that "in the event that the governor's veto in Georgia is overridden, we will do so for Georgia as well."
G/O Media may get a commission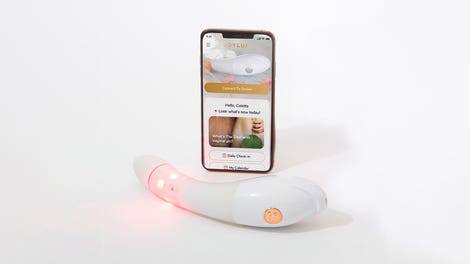 $50 Off
Joylux vFit Gold Device
In 2015, Cuomo instituted a similar ban on nonessential state travel to Indiana following the passing of SB 101, a "religious freedom" bill. Following an amendment to the law that prevented it from being used to discriminate against members of the LGBT community, Cuomo reversed the travel ban.
In addition to recent lawsuits brought against state officials by the ACLU and various LGBT groups, the mayors of San Francisco and Seattle have also enacted a ban on non-essential state travel to North Carolina. The Charlotte Observer reports that the NBA has threatened to pull next year's All Star game out of Charlotte; companies like American Airlines, Facebook and Paypal have also come out publicly against the law.
In an interview with NBC News on Monday, Gov. Pat McCrory called criticism of the law "political theater." When told of the concerns faced by Joaquin Carcaño, a plaintiff in one of the lawsuits against state officials who was born female but identifies as male, McCrory responded:
"You know, we all have to make adjustments in life. And we've had the proper etiquette situation for decades in our country, and all of a sudden through political correctness we're throwing away basic etiquette."
"Etiquette," state-sponsored bigotry—potato, potahto.