In January, Jezebel reported that Norwegian Cruise Line had quietly removed employees' access to emergency contraceptives, like Plan B—even for purchase. Last week, several more employees told us that on at least one NCL ship, the condom bowl in the health center was empty and that ship doctors had told them there were no plans to refill it.
"The girl I'm seeing on the ship went to the med center, we had noticed that the condom box that they always kept them available in 24/7 hadn't been filled," said one male crew member on a ship called the Breakaway, who preferred to remain anonymous. "She had to go see the doctor for another reason, so she asked about that and the doctor just said it's a new policy on the ship that they aren't allowed to provide us with them, they're not allowed to sell us them even. But it's always been available for free, so it's just out of the blue that they stopped providing them."
"He didn't give any reason, he just said it's a new policy," the crew member continued, explaining his thoughts on NCL's shift. "[It seems like] they want to be totally free of any responsibility."
Some employees Jezebel spoke with for our original report said they were told they must obtain prescriptions (for birth control and otherwise) for the entirety of their work contract beforehand—a requirement which is expensive, and difficult to coordinate with insurance companies. This move also shifts the burden of care onto the crew members themselves.
"In some of the trainings we've had they've been talking about how all the new policies are leaning towards this, 'everything's [the crew's] responsibility' sort of code or whatever," he said. "I can only speculate."
G/O Media may get a commission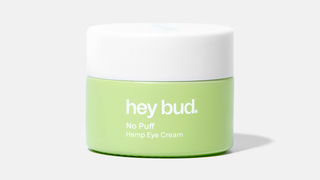 15% off
Hey Bud - No Puff Hemp Eye Cream
Ashley England, another crew member on the Breakaway, also told Jezebel that the condom bowl hadn't been refilled for the past two weeks, and word on the ship was that NCL would no longer provide contraception of any kind to its staff.
"That's concerning to me because a lot of those people can't get off for six months—especially if the ship only goes in the United States, they can't leave it for the six months of their employment," she said, noting that those brief periods at a port are the only opportunities employees would have to obtain contraceptives, or, in a worst case scenario, an abortion.
NCL crew members who are non-U.S. citizens are required to obtain a C1/D visa, which should theoretically allow that crew member to debark in the U.S. for up to 29 days. Still, multiple ship employees have referenced such an issue—and if one's time off doesn't occur while docked, they wouldn't have an opportunity (or the financial freedom) to leave work for a day or two.
A crew member of another ship who wished to remain unnamed said there hadn't been any official policy changes or announcements, but that rumors were circulating.
Among these rumors: "That condoms aren't going to be available. That married people will not be able to stay together or have couples' contracts. That opposite sex couples who are unmarried will no longer be allowed to room together."
(According to an industry website, cruise lines will often offer couples contracts on the same ship and for the same period of time, with the understanding that this will likely lengthen the term of employment.)
After upwards of 20 attempts at contacting NCL public relations since December, Jezebel finally received a response on February 29:
"That's not accurate," Senior Director of Public Relations Vanessa Picariello wrote in an email. "Norwegian makes available both emergency contraceptives (Plan B) and prophylactics to crew members, no matter the circumstance. These items are available to all crew members to purchase as needed."
After some pushback (since, according to our sources, that is clearly not the case), Picariello responded:
"At Norwegian Cruise Line, the health and well-being of both our guests and our crew members is of the utmost importance. As stated below, Norwegian makes available both emergency contraceptives (Plan B) and prophylactics to crew members, no matter the circumstance. These items are available to all crew members to purchase as needed. If there is a specific vessel where you're hearing this is not available, please let me know so our team can address it."
Jezebel wrote back with the names of the vessels. Picariello has yet to respond.
---
Contact the author at joanna@jezebel.com.
Image via Getty.