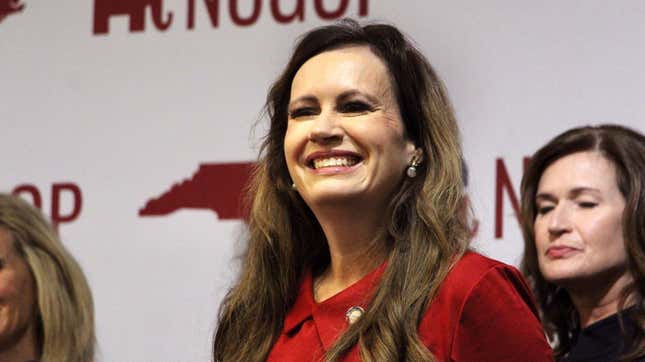 The formerly pro-choice North Carolina state representative who betrayed her constituents by switching parties in April and then voting for a 12-week abortion ban said Tuesday that she hasn't changed and that the law isn't a ban.
Uterus Weekly: 15-Week Abortion Bans
State Rep. Tricia Cotham (R) told reporters in a rare interview, "I'm still the same person. Unfortunately, the Democrats on the other side want to use my story as the narrative that they need to raise money."
Cotham, who spoke forcefully in 2015 about her own medically necessary abortion for an ectopic pregnancy, attempted to defend her vote on the abortion ban—she voted for it twice; once to pass it, and once to override Democratic Gov. Roy Cooper's veto.
"With abortion, that's never been an issue that I was always out there for at all," she said per the News & Observer. (Fact check: False.) When a reporter asked Cotham how she squared previous statements that she would be "unwavering and unapologetic" in her support of abortion rights, she responded: "This is unwavering support. This is very common and very well understood by many people that the first trimester—that's when most abortions do occur—and it's not a ban, it's absolutely not a ban."
Where to even start with this gaslighting? While it may not be a blanket ban, it absolutely guts access, and it is effectively a total ban for people who need time to save up money or learn about their pregnancies late, or get a concerning medical diagnosis later in their pregnancy. The bill also heavily restricts access to medication abortion requiring at least two—and possibly three—in-person visits at a clinic. The law could also shutter clinics for not meeting medically unnecessary standards of ambulatory surgical centers.
Cotham also added, as if it somehow absolved her vote, "I was not endorsed by any of those [pro-choice] groups either." In fact, she was endorsed by EMILY's List, a pro-abortion PAC, which revoked their support of her after she switched parties. And Jezebel previously reported that, while Cotham sought the endorsement of Planned Parenthood South Atlantic—even submitting a questionnaire in which she wrote that she'd "been an unwavering advocate for abortion rights" and she'd oppose any bills that restrict abortion access—she blew off numerous endorsement interviews with the PPSAT board, which the group requires before backing a candidate. Cotham later told a staffer via a now-public Twitter DM that Planned Parenthood had "really screwed" her.
Her comments came the same day that Democrats unveiled Senate Bill 748, which they're calling the Voter Fraud Prevention Act. It says that if a state representative or senator switches parties with more than 6 months left in their two-year term, the seat would be considered vacated and a special election would take place within 90 days. The lawmaker would also have to refund donations to any voter who requests it. The measure would only apply to future switches, not retroactively to Cotham.
Republicans have a supermajority in both chambers so it's unlikely the bill will pass, but co-sponsor Sen. Michael Garrett (D) says it's important to try. "This example, if you talk to people, is one of the most offensive instances of true voter fraud we have seen in this state in recent history," Garrett said. "It is really our responsibility, and I think our obligation, to address it." (Cotham isn't the first party-switcher in the state: In 2017, Rep. Bill Brisson flipped from Democrat to Republican, and formerly Republican Rep. Michael Decker moved to the Democratic party in 2003.)
Cotham told another outlet, WRAL, that she thought the effort was "really, really sad" and that she laughed at it at first. Then she took a revealing dig at Democrats: "Clearly, they're not in the in crowd, working on legislation, working on this budget, working on solutions. They're coming up with just petty nonsense that really just shows their ineffectiveness. That's very unfortunate." Former staff believes that petty grievances—including Cotham believing Democrats didn't like her—are a big part of why she switched parties.
As former Cotham staffer Jonathan Coby told Jezebel in May, "The only thing that I can say for sure about Tricia Cotham from here on out is that she will always be the victim."